Not so much sewing latly but I really want to though! My 2-year old son have vacation from kindergarten all July and my housband have summervacation(He is bulding a porch patio in front of our house). Not so much time to sneak out and sew ahh
Well well In the mean time I code my store (I can use a pc and wath the children somtimes) I have download zencart and are going to pull my hair out soon hehe. It so much to understand! But I think I work out the shipping (oh my good so much zones to send to), the payment(paypal and visa). The design was the fun part! I was thinking about selling at etsy but this is a american marked and I don't think I can competie in that "sorry" cheap price-range. I will of curse sell to US. We have a corresponding website here in Norway, called epla.no but it's a little fun to try myself and I hope to get enough traffic via this blog and commercial. So I hope You, my dear reader will buy my stuff
well if I figure out this codething in zen though. In the meantime, I found this awesome website register. Lots and lots of fabric stores. If you are a fabric junkie like me you are going in at your own risk
My first giveaway *happy* I'll give away a wraparoundbody str 62(1-3 month) that I just created a tutorial on. With long or short sleeves of your choice and the fabric selected among theese: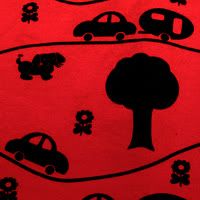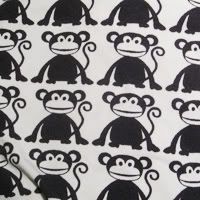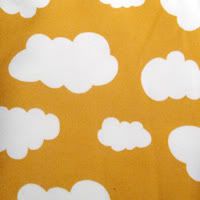 If  you leave a comment =  1 ticket
If you leave a comment and follow my blog = 2 tickets
If you leave a comment, follow me and link back to this post in your blog = 3 tickets.
So leave a comment and tell me what fabric you want and how many tickets you wold like
This will end 31 juli and then I will use a ramdom numbergenerator to pick a winner
The fabrics are bought from http://cethodesigns.no/
SEPTEMBER 2013: This pattern is now out for sale in three sizes. It is updated with better lines and I have edit so its fit more perfectly. You can purchase it here if you like
If you would like to follow me on my Facebook I will choose two followers who get the patterns for free in the end of 31 September. NB: Remember to post a comment here that you did
Hi, want to make an wraparoundbody? The free pattern is downloaded from here. You have to purchase it, but its free of charge.  If you make this so please link back to this blog as a thank you
It is a little work to make a tutorial. This body is in European size 62 (1-3 month) because it is just little babies who use a wraparound(to avoid putting it over the head). You don't have to use a overlock and cover like I did here, but it sure makes it a lot faster of course.  The pattern is including a 1/2 cm seamallowance in the sleeves, sholders and sides.  The other edges have fabricedges (is this the correct name?)
PS: A sample of this body is a giveaway this month, check it out in the next post
What you need:
1/4  meter jersey/inerlock

Ribb/Interlock to the fabricedges

Sewingmachine

Jersey-pressonbuttons
Cut out all the pieces:

Then you sew together the shoulder seams. Make sure you add the correct section of each pice directly against eachother.

Cut out a 4 cm strip to make the edges.

Sewing the strip on with my cover. Up the one side, the neck and down the other side. If you just have an regular sewingmacine you can sew it on like biastape but stretch it when you sew it on the first time along the edges.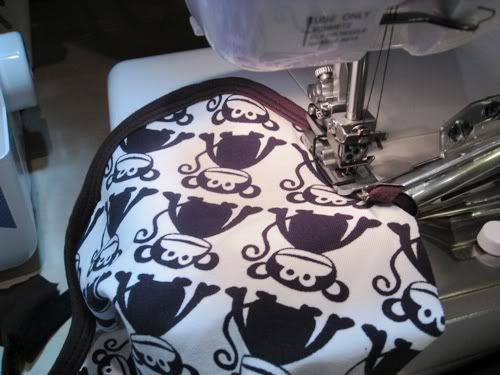 What it will look like when you are done: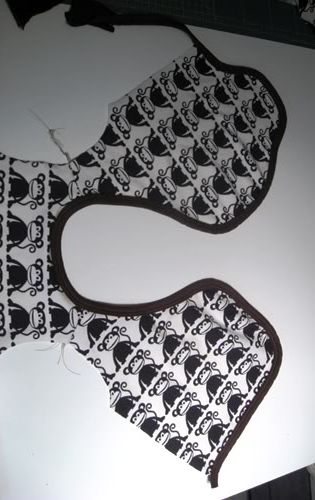 Edge the bottompiece

Sew the shoulder seam: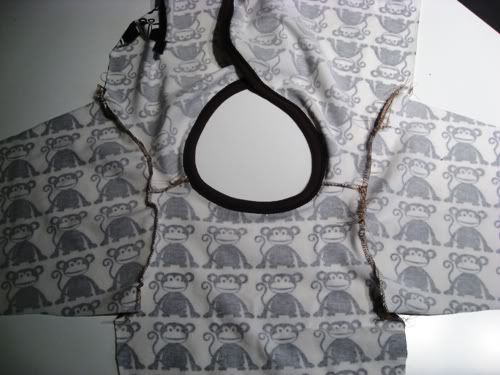 And edge the other sleeves. (If you rather want to sew it up, remember to add this in the sleevepattern) Then you end up like this picture: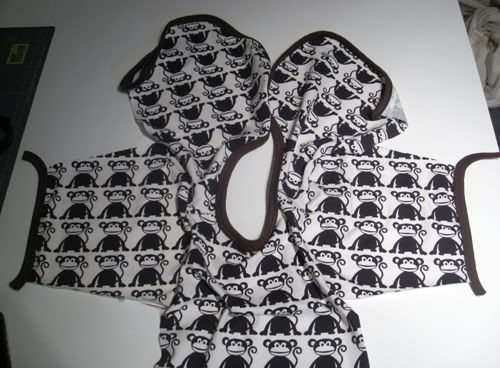 Now, make this: Fold the fabric pieces together and sew around, or pull out if you don't have overlock. Make 3 pieces. These will sit in the side seams as reinforcement where you insert pressonbuttons on the inside.

Pin them onto the wraps as shown here. 2 pieces on the inner wrap ..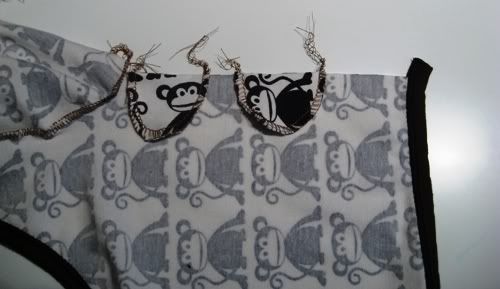 ..and one on the outer wrap.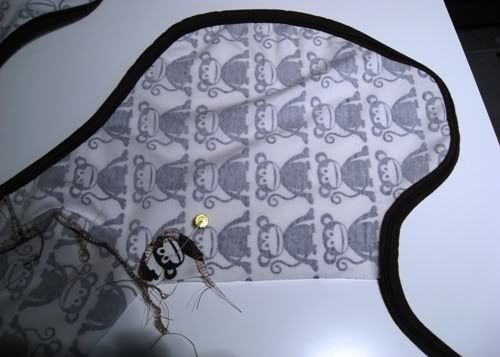 Sew the side seams and sideseams on the sleeves at once. (Do not sew all the way out on the edge, starting and stopping about 2cm from both ends)

And now a little trick with the fabricedges. Sew straightstitch by starting at the seam that is almost completed, and sew along the edges. (Black threads here) Pin together just to make sure it will not move when you sew.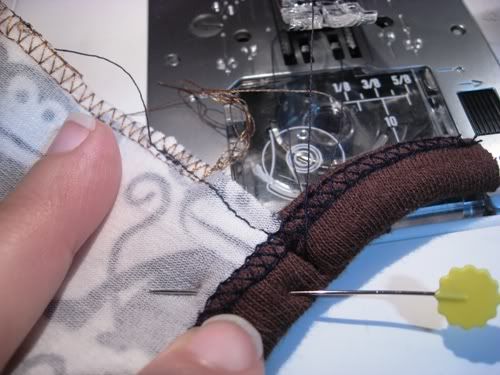 Then you fold edges to each side and sew two seams from the front side.

Look like this:

Now cut away the excess edges. Voila now you have a good ending that not makes a big lump in the sleeves and they doesn't meet skewed at eachother, which it often does because it  is so thick there. If you sew with a regular machine, you can of course sew all the way at once and do the same.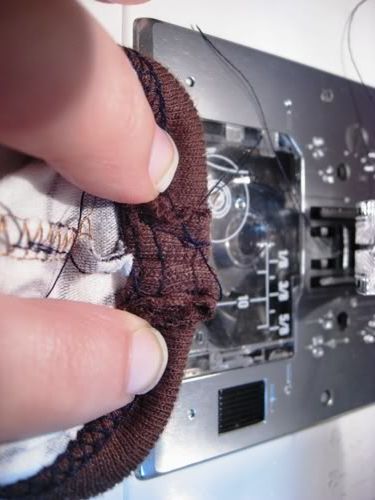 Turn the innside out and tadaaa you have made a wraparound body. Now just have to put in a lot of presson buttons, but I expect that I don't need to explain that:)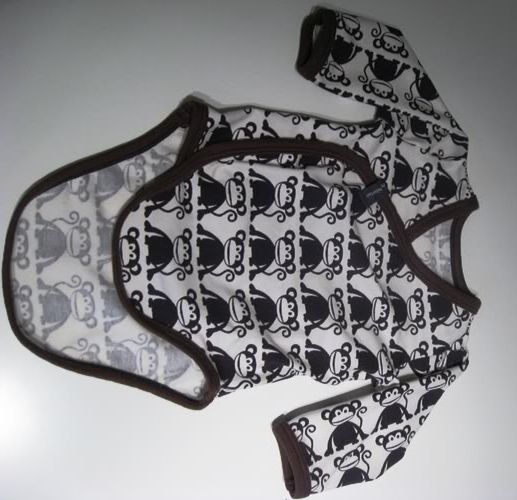 This one is for sale at 270NOK or I also make coustoms, just email me
I'll be very happy for comments and wold love to se your result and if you can link to my page I'll be very happy
TERMS OF USE: This pattern is for personal use only. You may not sell this pattern, or body made from this pattern!
I have also made a pattern for hats. this you can sell from, please check out my site here
I was finally done with my bag. Pattern here. It is already in use and it is a perfect bag / pouch for me as a commuter. Here I have space for everything from blankets, book, umbrella, drinking, mobile, chocolate, ticket etc. Or a laptop as it is originally intended for in size. It is lined with heavysewin, very heavy, just because it's a bag and the edges will not fall down so quickly. There is also a card in the bottom,  sewn in such as the recipe says. The problems along the way was to get sewn together bottom sides of the outer shell, the fabric was canvas. It was a little thick in the corners and I had to pop up a few times and then there would be holes in the corners. Anyway, I'm very happy and many old ladies comment on the cute boy in the picture:) Such images can be purchased from spoonflower.com or made with a transfer paper. Finally, the entire bag is sprayed with impregnationspray
I should really make something else, but wanted to sew something for myself:) Although this is not going to fit before duedate then of course hehe. Shirt pattern is from Burda summer 09. There is stitched in white. I'm not so fan of white, because it becomes gray, so why not just sew in gray?! Is moreover that gray is very casual and can be used in some nicer contexts too. I struggled a lot with the collar, but it is a "fold" in the back so it doesn't show + that I just couldn't understand how I would fold the sleeves correct,  to get three quarters rolled up without to show the inside seam, duh hehe. The fabric is popolin andironfree (love that). In the brand logo I have a bat so to make the shirt a bit more rough, I used bat-buttons bought from ebay and made a batoutline on the lower back of the shirt. I think it matched well with black contrastseam .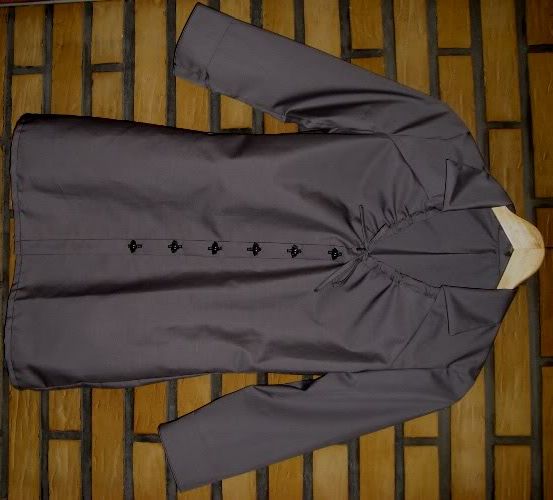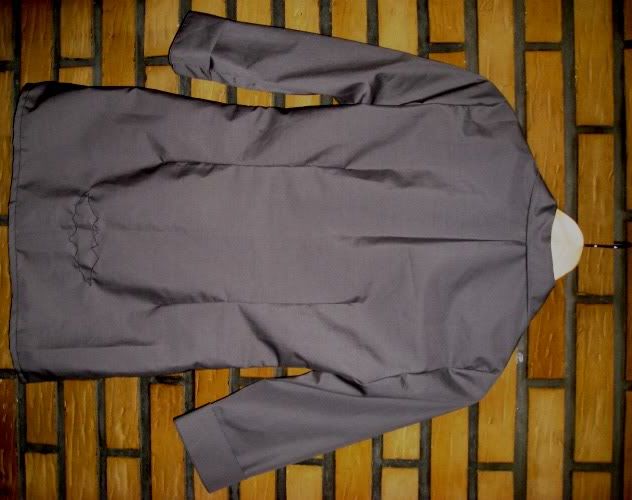 Wrong colour on this picture, its more blue
Then I finally had some time off. And has done little in weekends as well. Sure… it is taking me longer than you think. You supposed to draw the pattern, cut it out, make sure the pines is fixed properly to the fabric, draw around, cut the material with the seam allowance. And only then can you begin to sew. And it's not always easy either. Often there will be mistakes and ypu have to rip it up again, indicate the recipe, etc. Now I was a bit brave who chosed difficulty 4 of 6 But I was happy with a bit of a challenge! Have learned along the way. On this I think the back was a little wide, but it happens it shrinks a tiny bit because I didn't bother to wash the fabric before I sewed * whistle* The most cumbersome of this was the part were the fabric overlapped at the very top, where you have to turn inside out and sew back and behind the row of buttons. Decorations are just drawn on with chalk and sewn in trippel straight stitch. The lower border was a decorative stich on the  sewingmachine but it messed up each time there was a bump in the seam, so it was not perfect, maybe it's just me who sees it thou. AND thanks to shamu for button and tape trick! It prevented me from a lot of extra work and I got the buttons in exactly the right place. What I did was to chalk up the button hole on one side. Layed the front sides togheter and hit it with my hand over and tadaaa I have the exact same mark on the other side! There, I fixed the buttons with tape and sewed
 I think it look nice. Now I only have to make matching pants or somthing. Pattern: Norwegian Altomhåndarbeide No. 2 February 08 Borrowed in the Library;)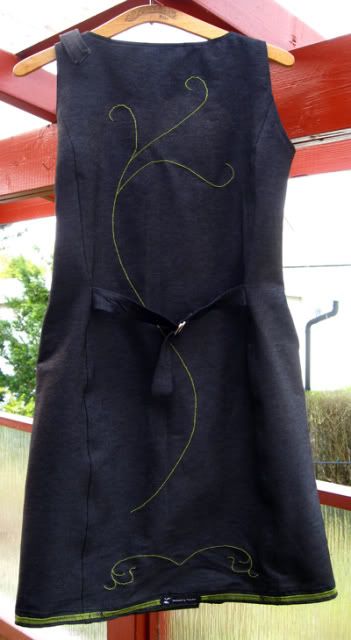 Then I was finally finished kindergarten backpack to my son. It is made with some heavy fabric from IKEA and oilcloth as lining. Had to think a lot because the pattern was only in my head. It was a little larger than I had foresaw. o mess around a lot so it come out the right way after I had attached the lining.
Straps are from the old ugly disney backpack so they are used again. I pondered how I would mount them in the bottom edge when I had no side seams, just one seam in the middleback. I ripped up a bit in the side and sewed over with zigzag. Not really pretty but it works. On the lid of the bag it was so many layers that I had to handsew with the machinewheel and it stops several times, but it doesn't show, just underneath *whistle*. Hitting the eyelet at the top and I found a yellow line from a shorts my husband used to wear. If I find a better solution and pattern, so maybe I can make these for sale with a personal touch:)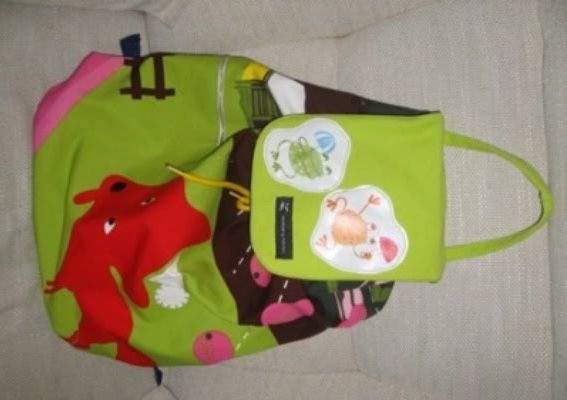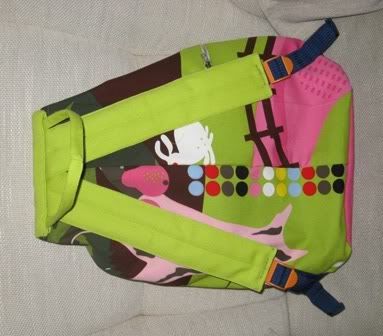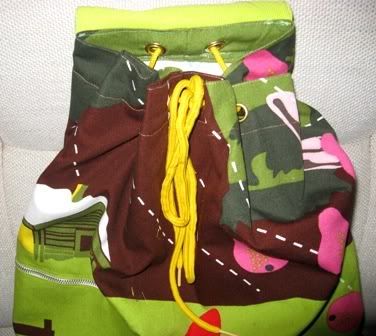 What do you do with the sweaters that is washed wrong? This was man's size L sweater ….But I  could create some new clothes? Arms are legs and the rest are west. Now the arms was not long enough to become a hole pants so Ihave to add som yellow knit. A  little duck were sewn in front with a some filling in so it created a funny 3D effect. Edging is done with the same yellow knit. I thought I'd be smart to edgde before I sewed it together, but it was very difficult to get the ends to meet perfectly .. was too much mess. So it is perhaps better to sew together first. It becomes so thick to sew the edgefabric somtimes, the threads jumps and dont bind it. Whether it was, it is a warm and good small suit. Just make sure to not wash it again in the regular wash! 
So do not throw such fine wool garments, they can become something new and nice:)
Before: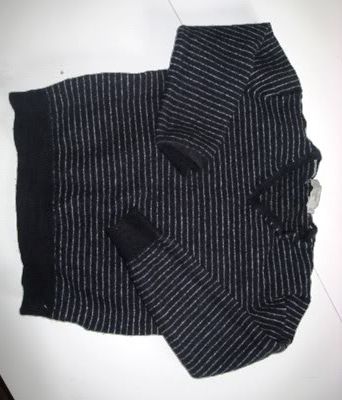 Etter: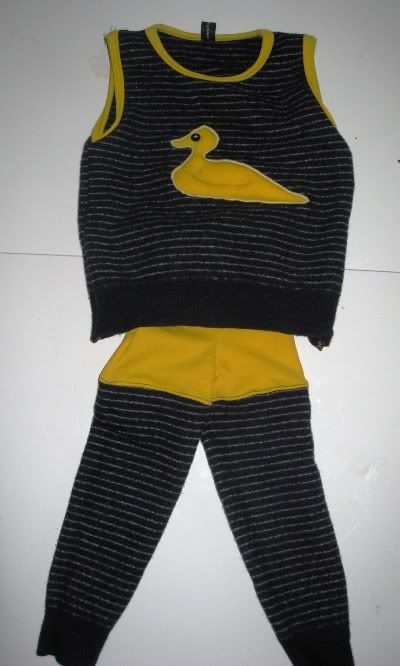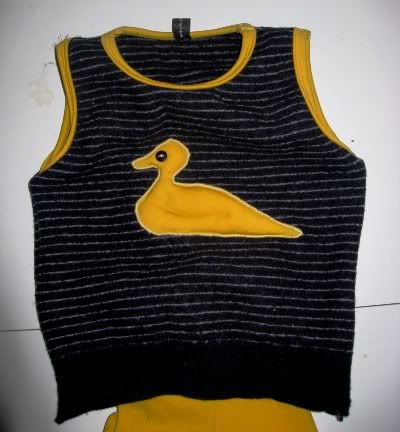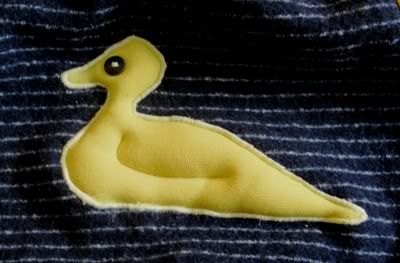 When he tryded it on the yellow but becomes very uniq and a little ducky too lol. The west was a little wide and the neckopning alittle big.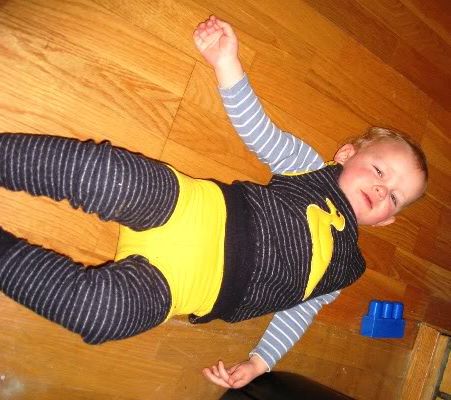 This was this year's Christmas present for my mum and mother in law. One set each. Heating Pad filled with corn that can be heated in the micro with a glass of water and then lay it over the neck or other muscle pains. Very easy to make, outer layer made like a cushion so that it can be removed and washed. The cushion has the same picture as the messenger bag, since it is 4 x pictures in the fabric I ordered. Around it I used Ikea cotton fabric. Messed around to get the measurment right to a 40 inner pillow.