Archive for the 'Uncategorized' Category
I have a problem with my word press background color. It won't display the white in the body for my site. So if the text its hard to read on the blue background you are using a version of chrome that my blog don't support or something. I suggest that you use IE if you experiences this. I'm trying to solve the problem but its complicated.
The winner was number 42 and that was tamdaradaaaaaaa Pamela Silvius, huray!!
I'll send you the pattern when i get your emailadress
If you want to win the pattern, continue to like my facebookpage and I announce a new winner in the end of november
During the summers, I've created two plant hangers of hemp. It's quite fun to tie the project until a result. I bought some old magazines from the 80s on Ebay to begin with. Rings, hemp and beads I bought at a hardware store. To the first, I made beads myself of salt dough, but they did not quite hold the shape when they were roasted in the oven.
One is with 4 x 4 strands and the second is with 4 x 3 strands.
The plan is that the climbing wild flowers fill the living room window along.
If you want to do a similar plant hanger I found a very good DIY over at another blog.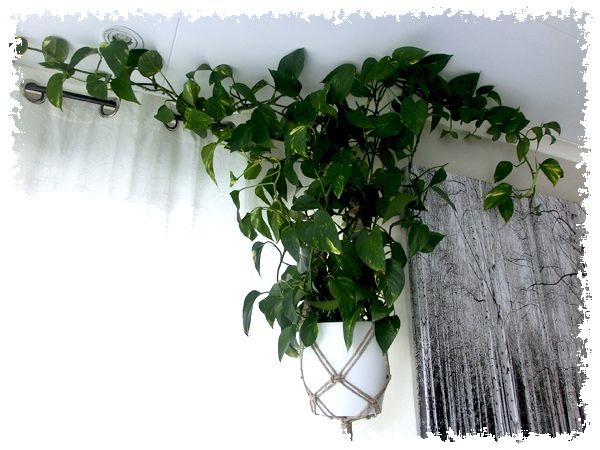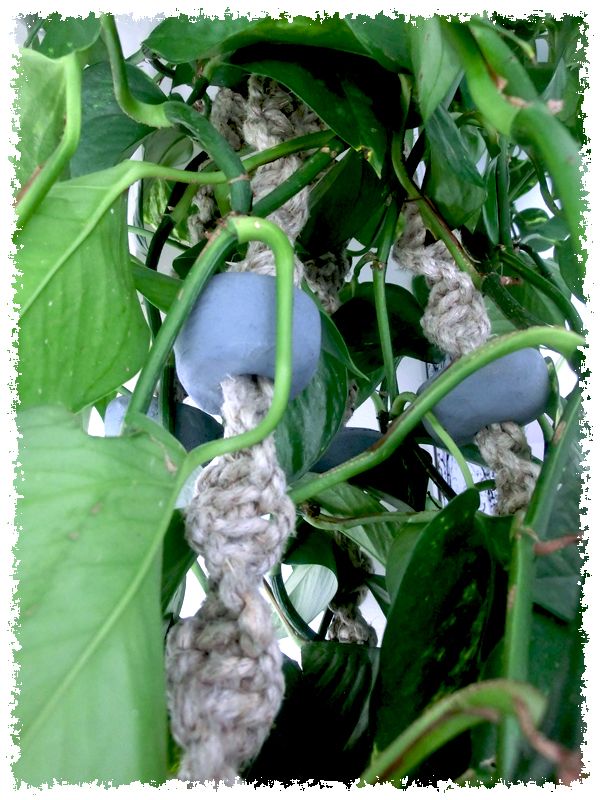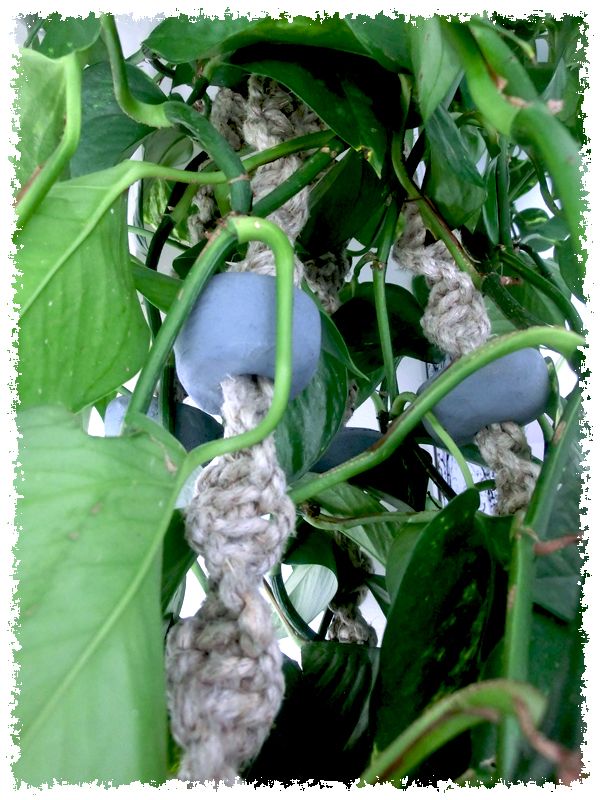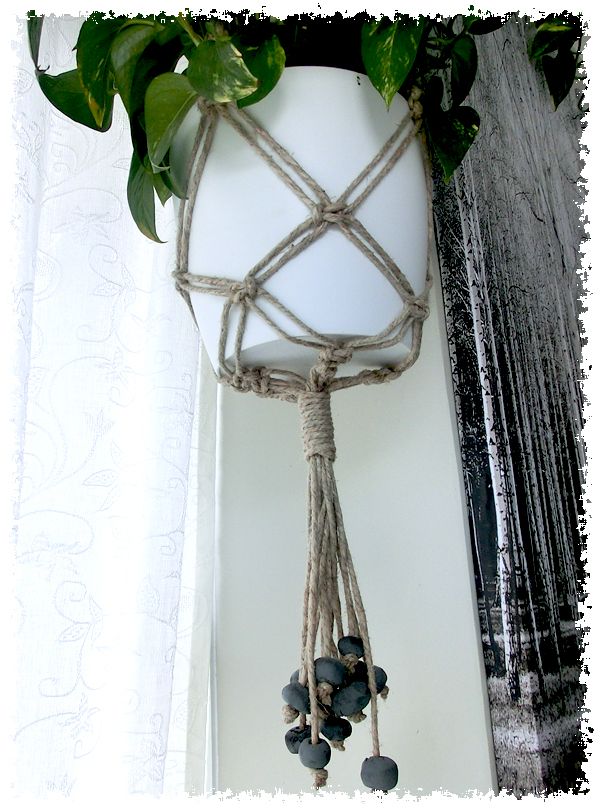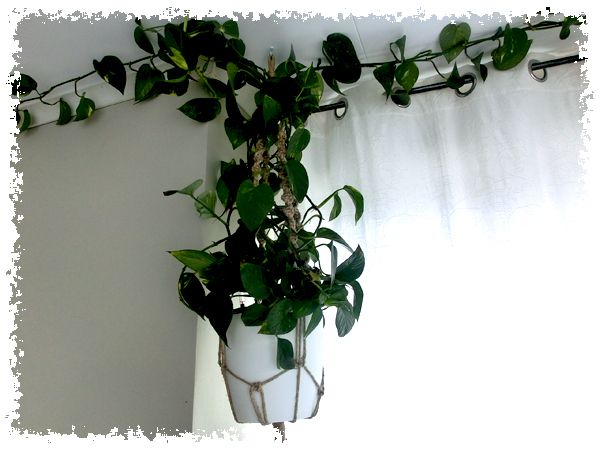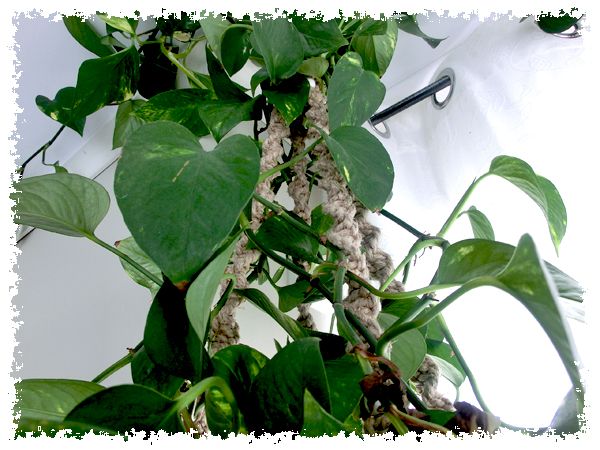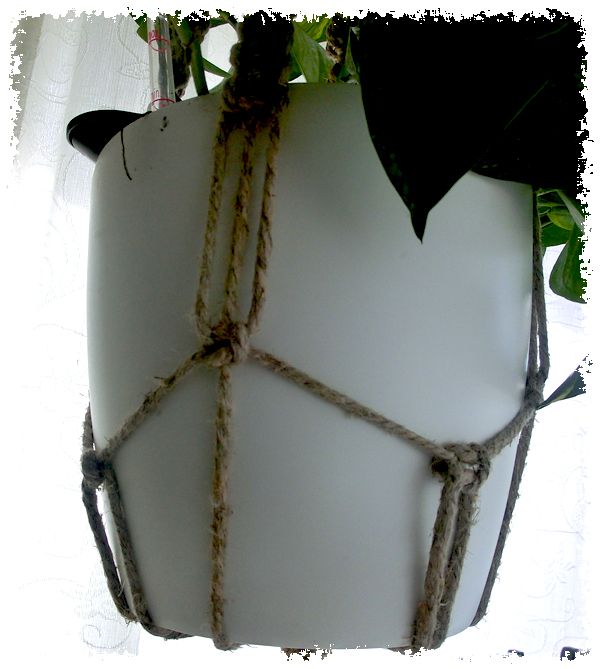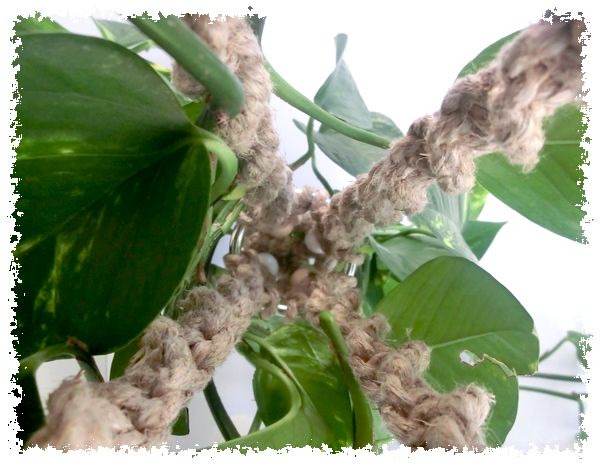 I think I'll I want more interordesign in my blog. I love making things, often with my husband and this is one such project. I made ​​squares with my Silhoette. My husband made ​​the frame and cut out the letters with his scrollsaw.
I always wanted a family monthly plan but the cost some firms take to make one is a little to much so why not make one myself.
If you want to create something like this one, you need:
A plexiplate, mine was 80 x 120 cm bought at the hardware store
A frame that fits or a nice husband who can make the frame
Scrollsaw to create letters and a thin plywood
A piece of fabric a little larger than the plexiplate
Glue. I used E6000
Silhoette cuttingmachine
You can use a silhoettemachine to cut out the squares, mine are 13 x 13 cm. You can also use a stickerpaper if you don't have one.The plexiplate comes with a thin plasticfilm on both sides.Choose a frontside and mark up were you want the stickers to go. Remember to make space around the edge for the frame. I also cut out Monday to Sunday with the machine. Stick them according to your marking now on the backside, remember to cut the letters inverse. Then remove the plastic from the front side.
Cut out the fabric a little bigger than the plate. Cover over the backside with the fabric and glue it along the frontedge. Wait for it to dry
Now print out the letters you want as heading and glue it to a piece of thin plywood. Mine was 80 x 17 cm to fill the top. Cut it out with a scrollsaw like my husbanddid with mine.
make a frame around the whole thing. The plexiplate build 4mm and so did the plywoodplate so on the top we had to make a deeper track. My husband is kind of weryhandy so that was no problem. He made the frame with 4 pices of wood, then made a 5 mm track along the side like a slot. double so wide on the top. Slot it toghether and glue it in the corners. It makes a very stabile frame.
Then hang it on the wall and enjoy! Write on it with markers.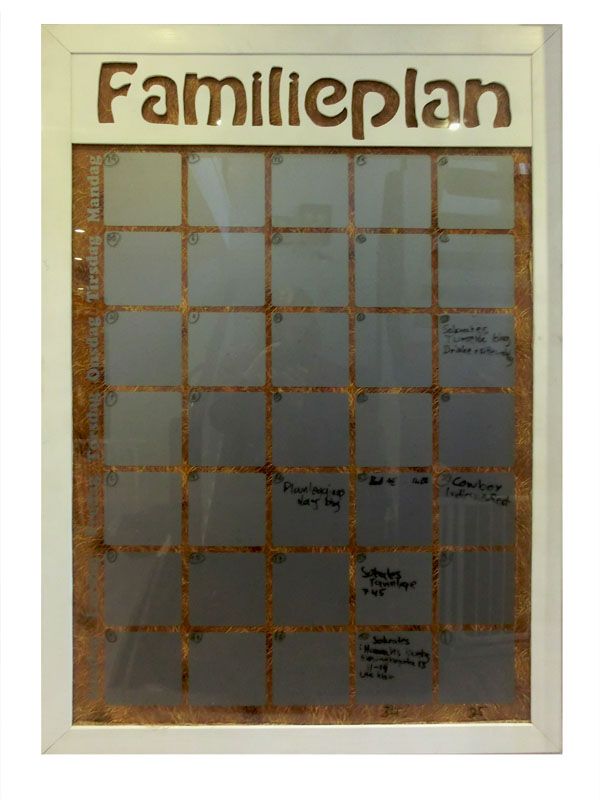 Last summer I started this skirt.(finished this summer shh) And it was so lovely to wear. The yarn was bought at a cheap shop for about 5 $/ piece. The pattern was very easy to follow, but mine was a bit tight so I should probably have crocheted with a larger hook size.
With a crocheted skirt you'd need a petticoat and since I go could not bear to sew myself  I bought two skirts from a skilled lady on etsy named Myolygirl that sew them. My crochet skirt was much shorter but since I wanted it to go below the knees I kept on for a some extra rounds. I invented the edge myself and it is not as described in the pattern. Pattern can be found here: Jolimar skirt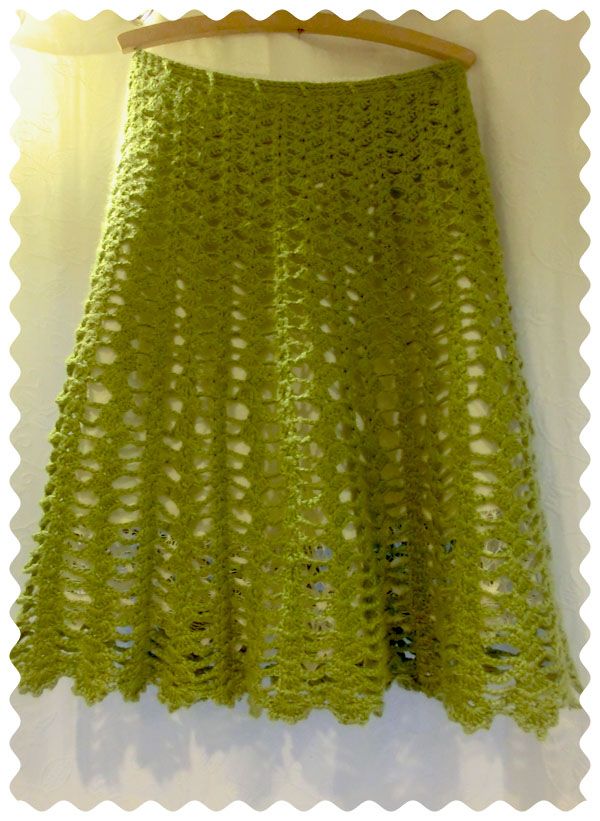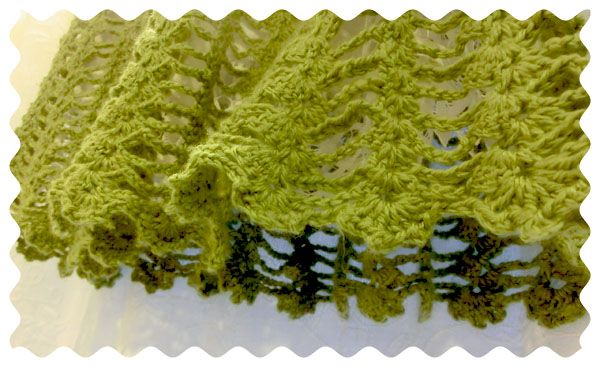 From the patternsite:
I think it turns out just fine!
It bin a long while, but I'm still here. I hope you are still following me. I plan to give out a bigger pattern with 3 sizes on the wraparoundbody pattern.. Its improved. You can get it in the book Handmade.  it was very fun to contribute to a book sold all over Norway.. If you just want the pattern have some patience until fall.
Now I have actually sewn some in this year but not so much that I wanted. This house and job takes a way the evening hours and soo soo tired some times. This summer I have managed to sew and crochet 3 dresses. It's a very popular pattern in the sewing community in Norway and everyone makes them, so I had to make some myself. Love to combine crochet and fabric and its easy and fast enough to do in 3 free evenings. since we have vacations I've managed to make it in 2 weeks or so. The pattern is Dale 27707. I think is some danish translations somewhere out there but don't remember. I let you know. Edit: Found it
I made it in three different versions. 3, 4 and 5 years. The pattern goes to 3 years but its very simple to justify to bigger sizes.The biggest dresses are given away for some late birthday present and the smallest its given to my now three year old daughter. I think she loves it too
Happy summer and I will get back to you all soon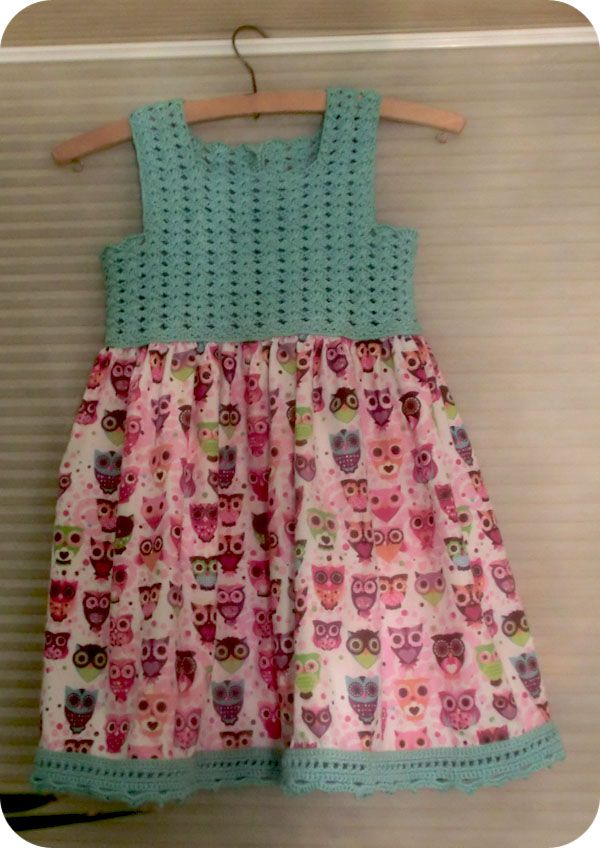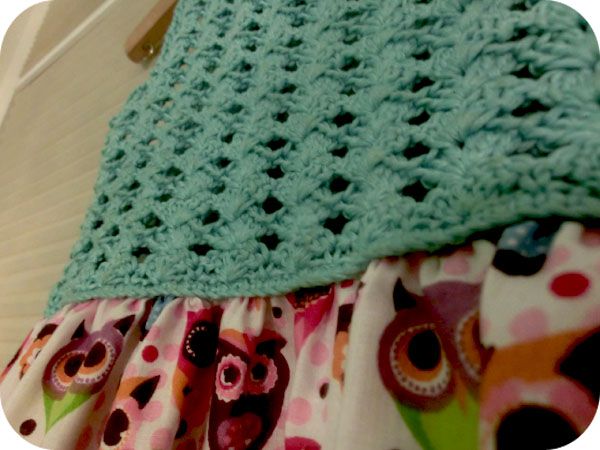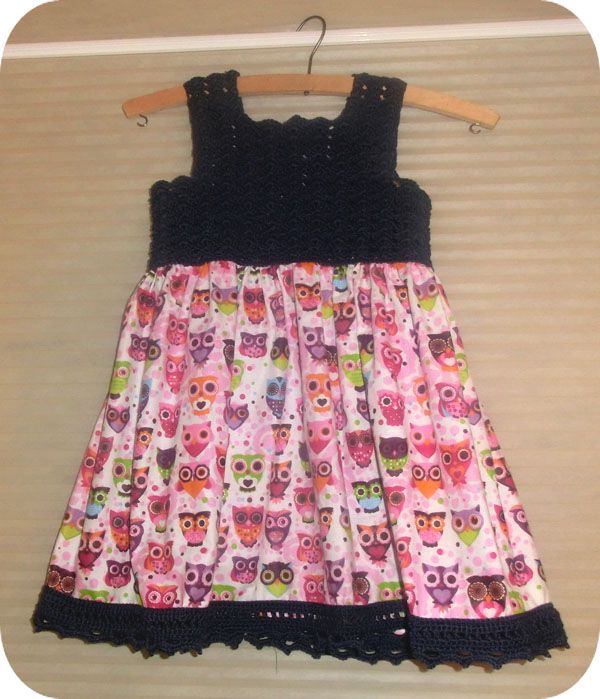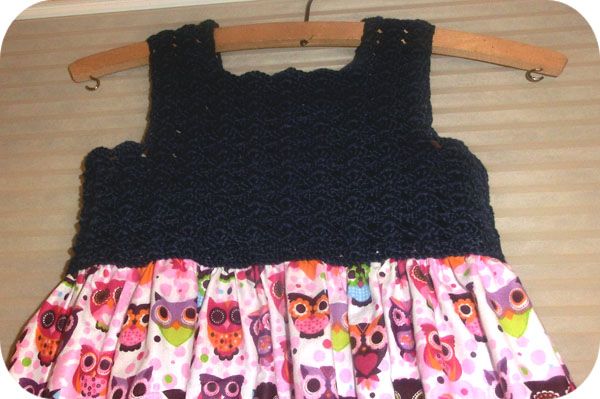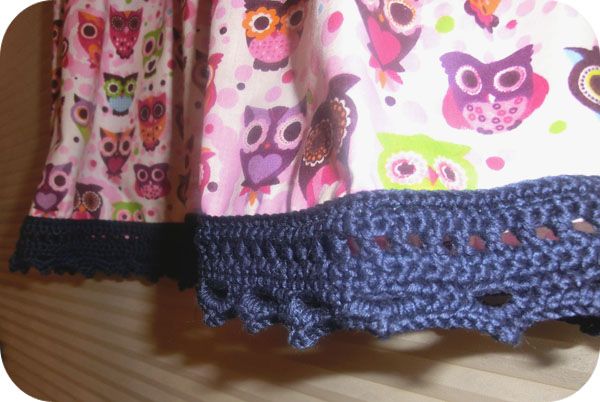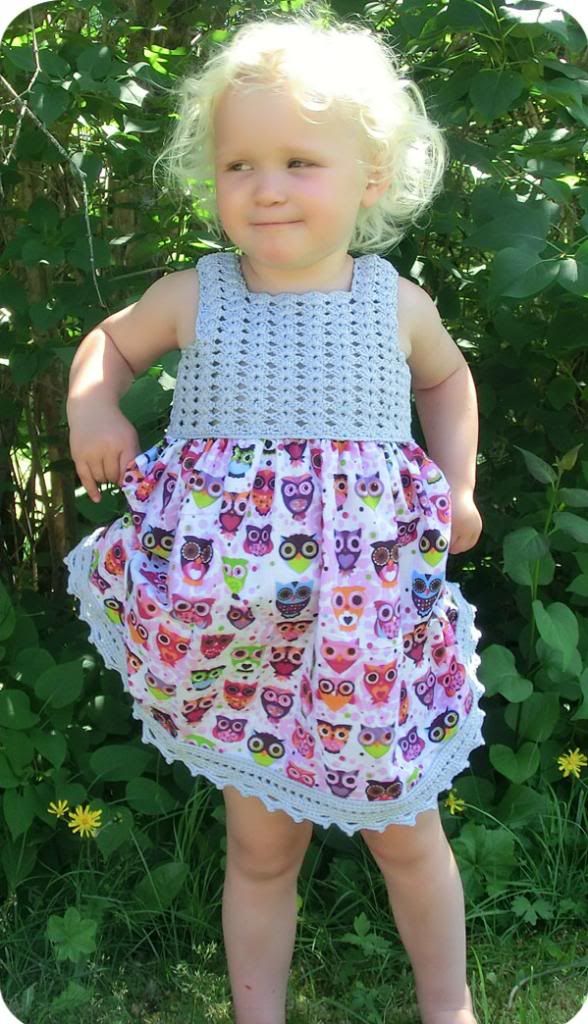 Var på tide at guttungen også fikk noe fint. det nærmer seg sommer og retorfarger er noe jeg er veldig glad. Ribb fra SS både I hovedstoff og kanting. Det er oppskrift fra nyeste ottobre. Jeg har ikke fulgt oppskriften helt da jeg kantet begge sider og la dem oppå hverandre, men det ble jo litt tykt. Jeg la også inn strikk I ribben rundt livet for ekstra hold.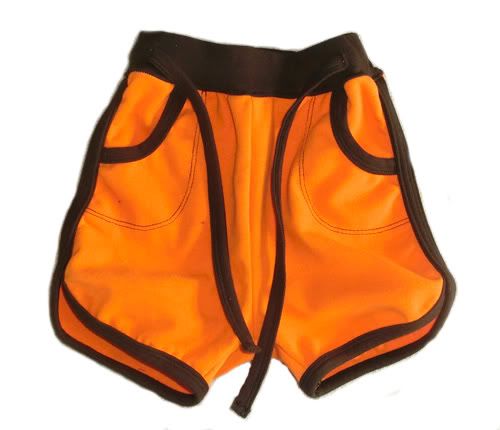 English: Retroshorts from Ottobre with some adjustment's
Had to make me a new pattern with tied cords at the top, in Norwegian called tied-pants. It is very simple to make and have a good and fitted dress form. its very popular among seamstresses in Norway. On the picture my sofa is supposed to be white.and a little of the new photo wall behind it.
Ønsker du en slik en tar jeg 450,- (NOK)
Well, time to make a new simple tutorial. and this time in redesign. If you have a pant who are to small, this is what you can do. I have used a EU36 and made it to around 38.
You need a matching fabric, your pants and optional biastape.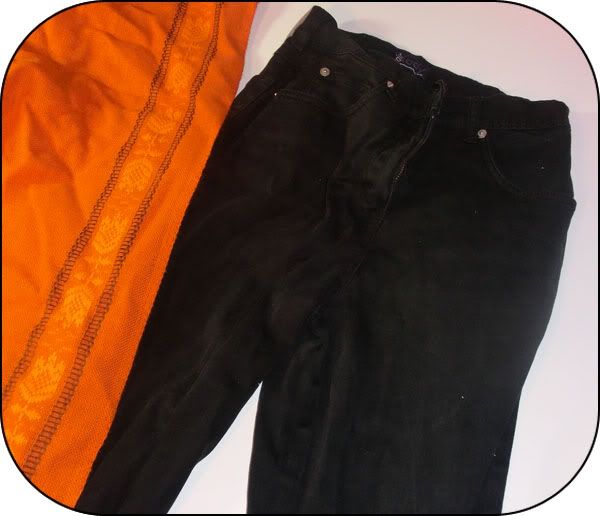 1. Your pants and matching fabric. I love orange and this is a old tablecloth from the 70's. But of course choose what you want, but I suggest that you choose a solid and not too thin.
2. Cut up the side-seam and cut off the seem-allowance on the other part. I will keep the pockets in the same shape.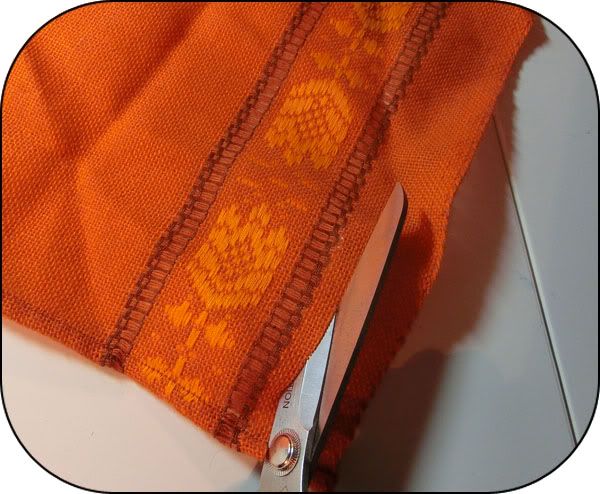 3. Now, Measure your waist and subtract the 2 waistline from your pants, and 0,5*4 seamallowance. This number is what your missing. Dived .the number on 2. and add seamallowance 2 times. Two for each side of the stripe.
EkS. My waist is 74. 74- 64(pants-0,5*4)= 10. 10/2 = 5.. 5*0,5 on each side of the stripe  = 6 cm strips. Cut the stripe a little longer than your pants (or like me too short)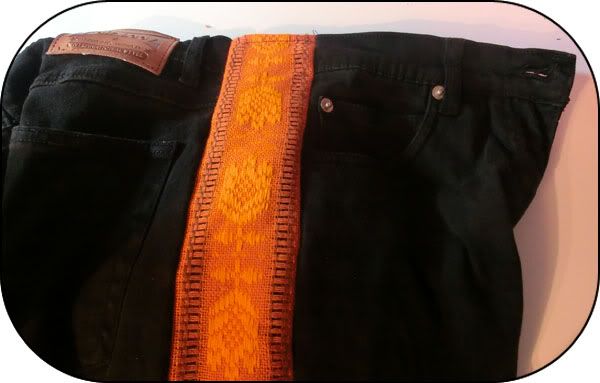 4.  On my tablecloth I just overlocked it to the side seams. But you may have to fold under and sew a seam on the top of the stripe. If you don't have overlock, just sew a seam and a zigzag.
5.  Well I cut my stripe to short, but hey why not give the pants a swing on the bottom? Of course you don't have to
I cut my stripe in a V shape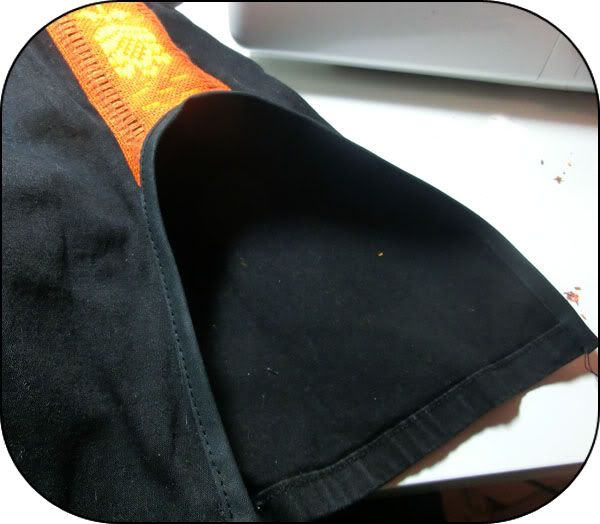 6. I just sewed on biastape around this hole. Simple as that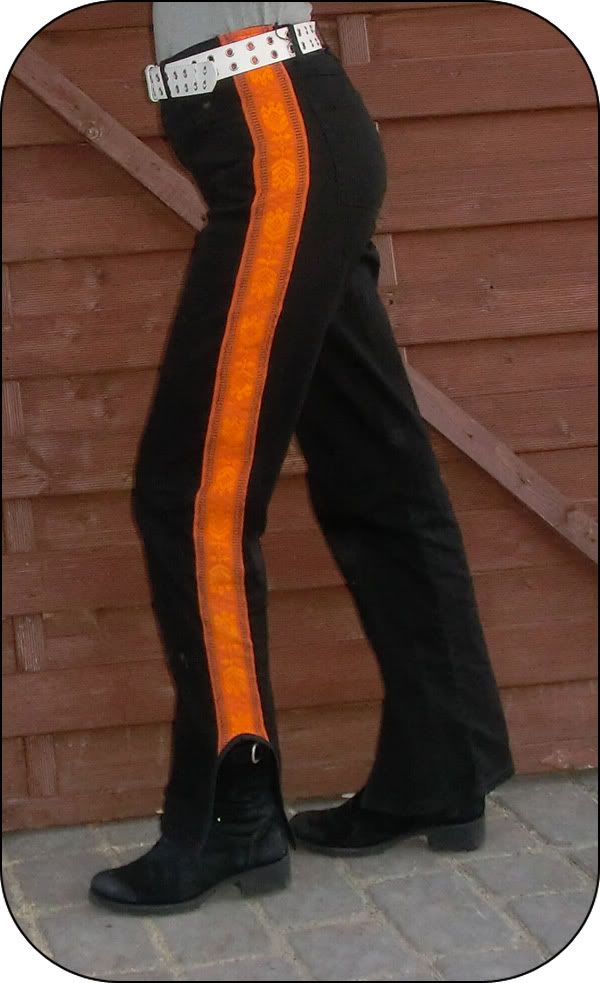 7. Tadaa nice? I think but I also love these colors. Make one and leave me a comment so I can take a look at yours.
I'm lucky to have received not less than 5 bags of old clothes. This is the first garment out.I used a simple dress pattern on the  t-skirt and cut off the application from the sweater. FOE in the sleeves and 2 seams on the side. Maximum one  hour used.  My little one is happy too