Archive for the 'Uncategorized' Category
What girl or boy wouldn't like apes? combined with yellow it makes a nice and colorful sweater.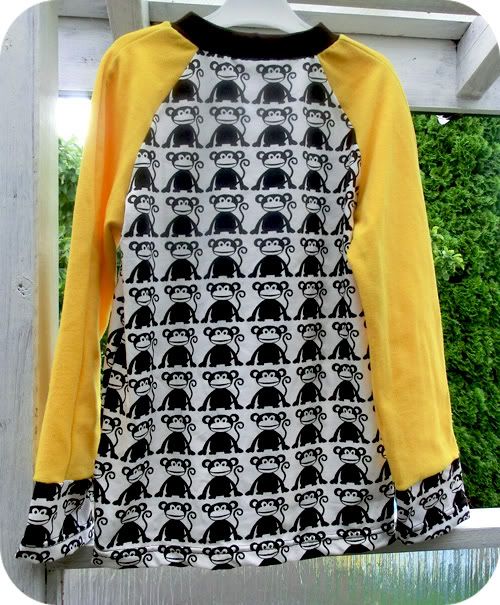 I love this fabric and when my producer sold it out I bought the last 3 meters jihaa
This sweater are made from this soft skyfabric and white rib. Size 12 years.
This weekend  I made 3! Wow actually 3 pants, that's not normal to me. I usually make 1 piece in a week or so. I cut out pattern on Friday based on the one I experimented with before. This time I made 7-8 and 9-10 years and kind of boyish. A match for the two sweaters I did the week before. I love love love this easy cotton from sydilla and I have to get some more, but I can't afford it in a very long time. The summer patterned one is from Ikea. Hope you like it too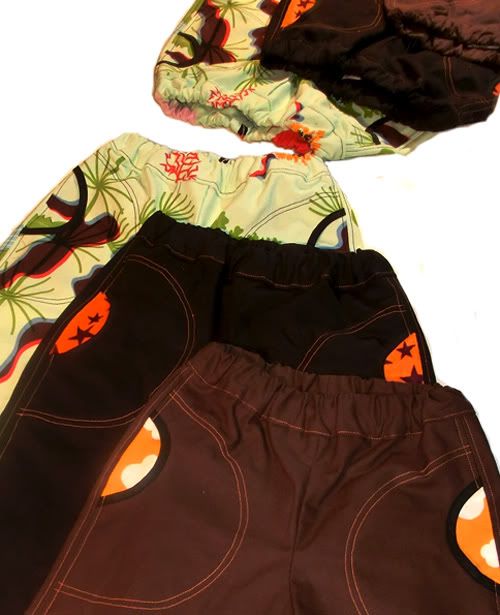 Tuuuuutt tuut. I want to celebrate my new labels witch this colorful sweater. Nice orange sky behind a nice silouett of a truck. All my clothes are in nice colors and have a kind of theme. There is not much out there for boys in the age of 5-7. The stores have all the black and boring greys with Disney's cars and sculls…Only one as usual. The labels are from worldwidelabels and I absolutely recommend them. They did a nice job and communicated with me several times to get it perfect. On the backside it says: I'm handmade with <3 in the precious small hours between work and night. Please take good care of me!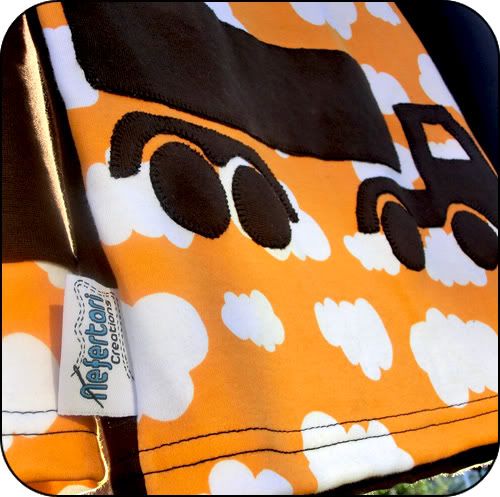 This will be a cozy  post. I decided to make cozy clothes. I did it with velour and jersey. The pattern for the stardress is from Stoffogstil. The other one I made myself based on a tee-shirt. Both are so soft and comfy but in children sizez but I wondering about make a pattern for the dress in my own size
The campingfabric is not more for sale
so this was the last I had. I hope there are some kids that will love them both. <3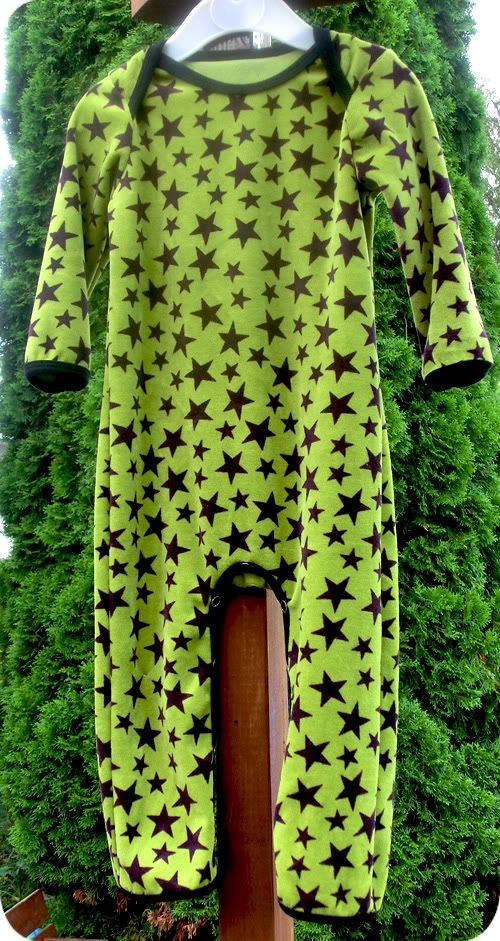 Yes on the go here. This time a girly one. The flowers are printed on and the fabric is all rib except the arms in interlock. The brown sky fits the yellow so nicely. I love a clear color contrast.
I had some fabric that I did not know how to use. Changed my mind several times and put it back. but then I got the idea of ​​an African team. And the fabric suited very well as starry sky in the red sunset. I appliqued a big elephant in front and halfway back. A cord turned into a tail a cord. Fabric I've used is fleece and velvet. A good, warm sweater for cold kindergarten day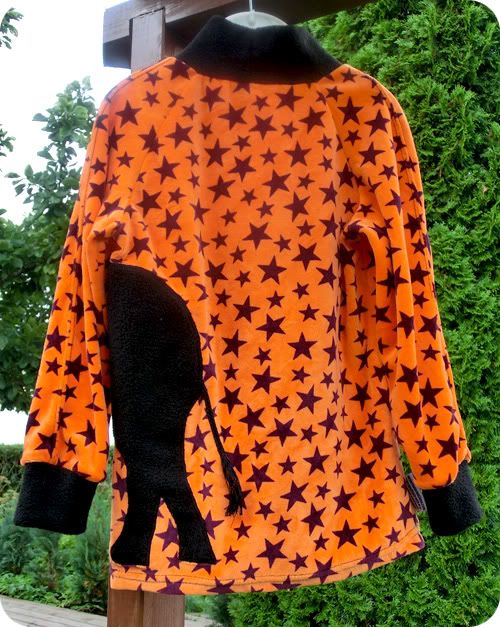 My son loves insects and when I asked him what he would have on his pants,he said spider and then I had to, of course, make it in this edition. Here I have cut up a pants bought at flea market that I never could were myself, but intended for such a purpose.The background fits well with creep, I think.
I still have to adjust a bit pattern since the waistband getting too far up and slipping down the abdomen. Think it's hard to make pants that hide butt but do not slip down. My son is slim for his age so there is not much to hang his pants on hehe.
He loved it and pointed and talked about the spider a while:)
I like to create girly dresses. It easier to make som girly than boyish I know. You can stash a girl not a boy. if I do my housband won't dress my boy. So theses ones are for sale or my little girl can wait 2 yers to use  them. She is 1 so these are in size 3years.. The fabric on the cherry one is from Kaufman and the elephant dress is a curtain from a sale. Simple and nice but I used more time than I was supposed to, like always huh…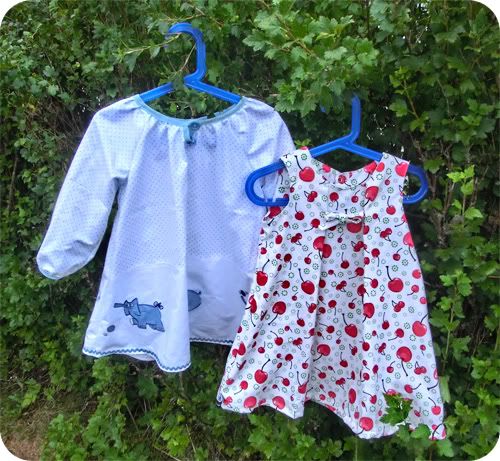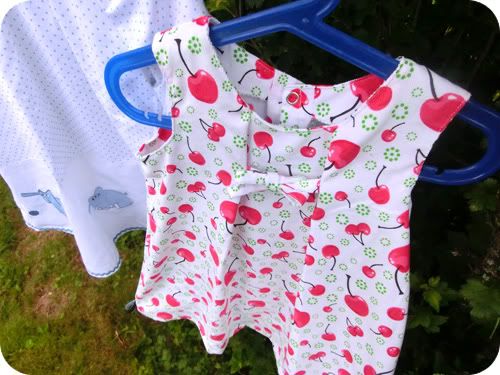 Norwegian: Ønsker du å kjøpe disse koster de 350 /stk.
To make a good children's jeans are not so simple. Firstly, you need good fabric that tolerate children's play. You can not use thin cotton of not only going to make some light summer pants. Buying pants is often lined which is time consuming to sew. So that was not very relevant. And jeans usual boring and packed in pink stuff or skulls..
This is girl pants because I like details like flared legs and a little floral decoration. It's going to be a challenge to create boy pants, but I'll try that too, thought maybe insects can be cool? And some cars or excavators ..
Anyway, these I have really enjoyed making these, Fabric is from Hilco, easy cotton from sydilla.no. Strong and good fabric that fits very well to children's pants without getting the jeans look. The print is made ​​with screen print and exactly how I've done it is secret:) Pockets, you can design with this tutorial. Trousers you  buying is either too large so if the kid just jumps a little they fall of or they are made ​​so narrow  in the legs so he/her  can hardly move.. Therefore, I used rib around the waist, but not so tight that that it's enough. In addition, I have therefore made drawstring. Was very pleased with the model and these will be on market before they are put up for sale.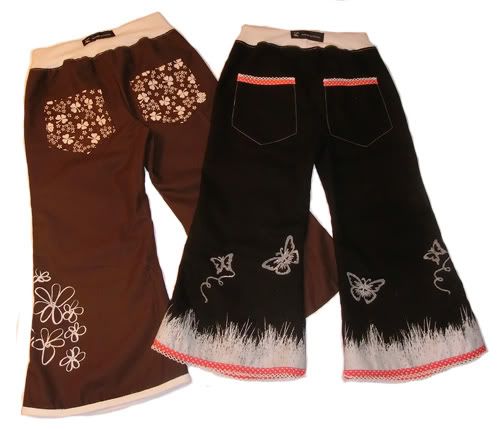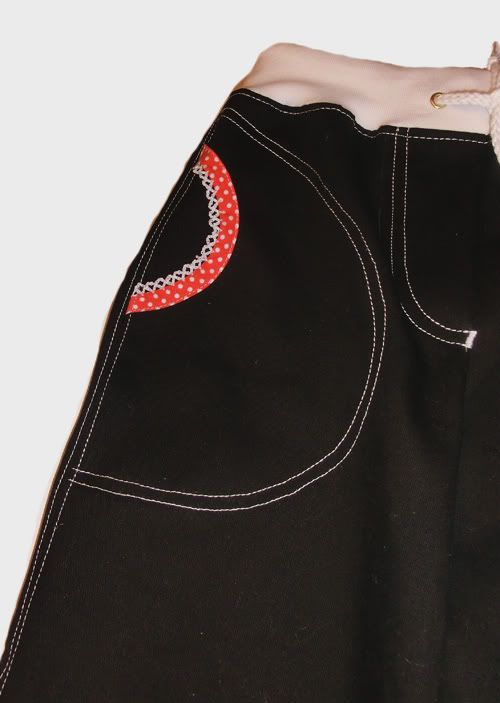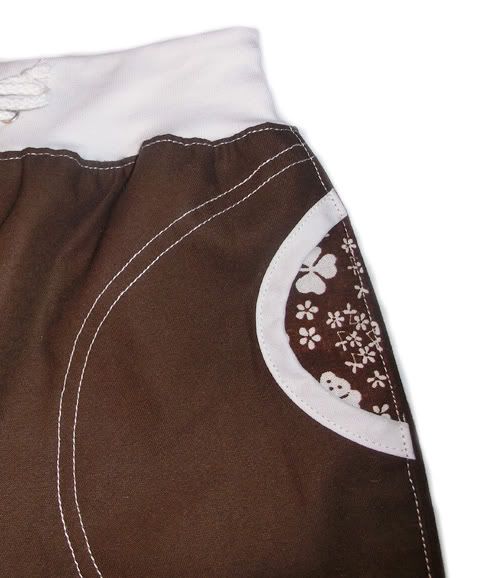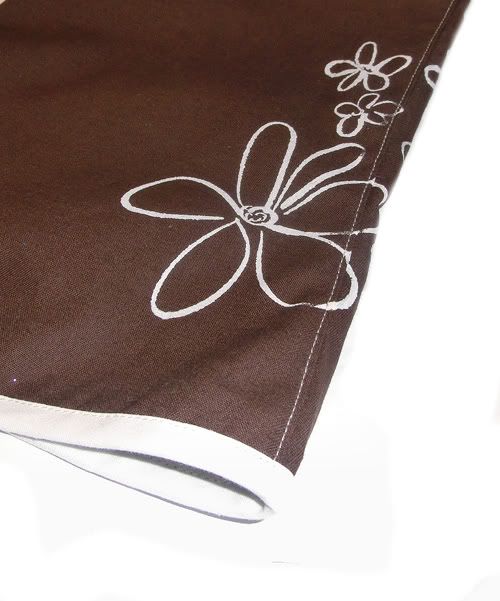 These are in 98/110/116 450,- NOK