Archive for the 'Uncategorized' Category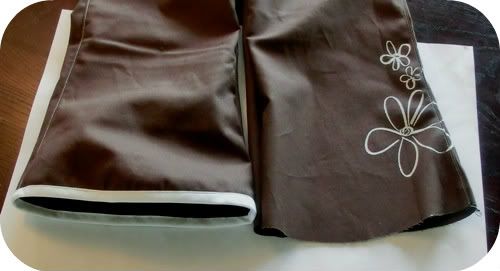 You want to splice bias tape in a circle just as the picture above. I will show you how you can do it perfect and the splice-seam lands on the leg inside side-seam.
Sew on the bias tape as you normally do. I sew it on from the backside and then turnover, but here,  make only this first seam around. Important: Begin to sew the distance like the width of your seam allowance(brown and black). If your seam allowance on the leg is 1 cm yours garment, begin 1 cm from this seam allowance.(red arrow)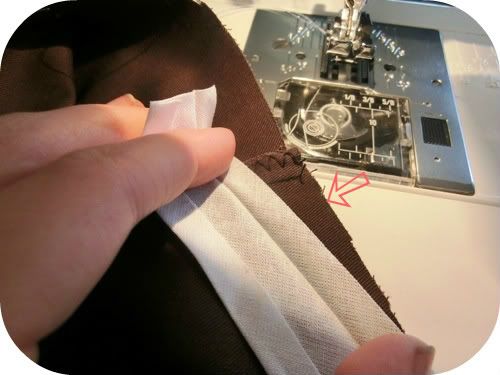 Sew all the way around and stop with the same distance as you started with. se were my scissor point? Watch up so you don't sew on the seam allowance..
You end up like this picture below. Begins and end with the same distance to the seam allowance in the middle.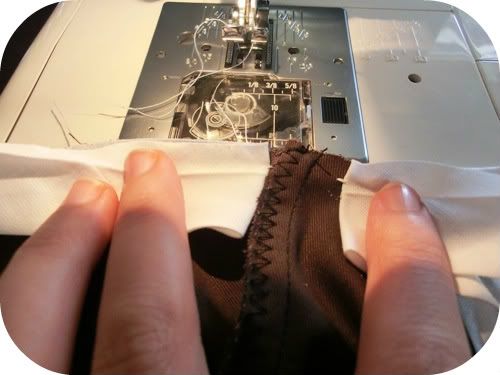 Now fold the fabric on the _inside_(here brown) seam and hold it like I do here.
Take the bias tape up and above and sew on the line like I show you here. If you have a very dark bias tape you have to feel the fold line and maybe mark it.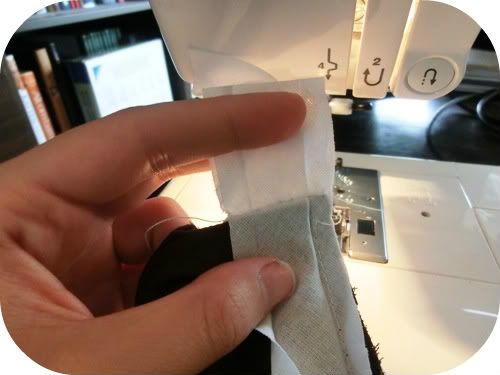 Now cut of the bias tape unfold and sew. Now as you see below will the splice match with the other seam. Continue to sew on the bias tape as you normally do all the way around
I commute by ferry every day. It's pretty boring. I mean VERY boring. I love my job so of course I do it and we can't move. My housband commute the oposite way of me. So then I have to spend half an hour each way = 1 hour a day.  Something I have to do when I'm nottrying to sneak me to sleep under the deck. Just look? wolden't you get very bored just after one day? Yeah thought so
So I spent about 60 hours witch this creations. It look like maybe 10, but to crochet a tunic takes like forever? I got a little tired during the making of the skirt but happy to get true it. Its my fist crochet garment and I'am quite happy witch the result. The recipe you can find here, but it's just in one size. A slim japanese girl hehe. But you can easy ajust it. I think crochet takes a lot more time than knitting but I love it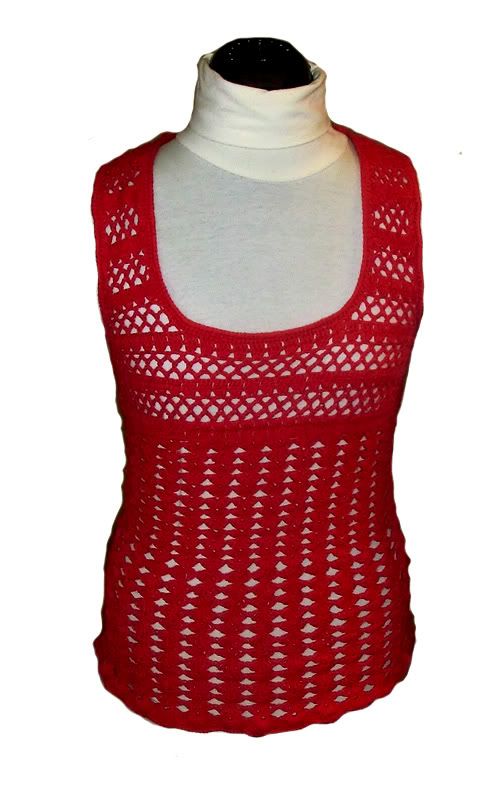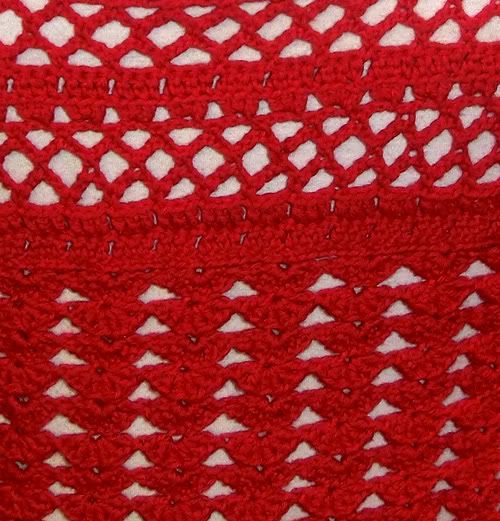 I most have something to do while I watch a boring movie my husbands sets on. Sewing is not that very sosial and with crocheting I can do both. This two things light up my kitchen and its very simple to make. The cloth is made from rows of half double crochet and edging around  with picot. The soapbottle-cover is just simple single crochet stich around in a tubular form until you get the hich you need.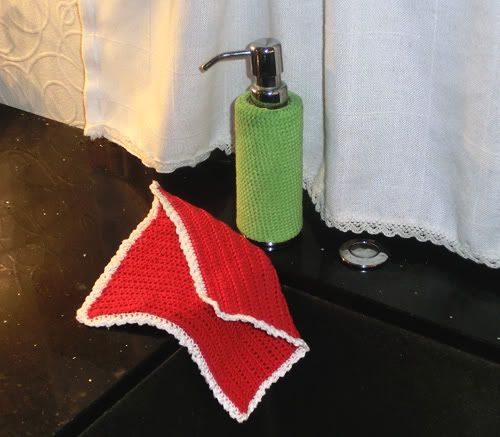 I have just spend several hours updating my entire blog, added some new links and made a list of  "some" of my favorite tutorial. Just click on the new tab right above. More will be added.
The famous spool birds. Everyone making theese around on the net and of course I had to try it to. It.s so simple and decorative. I used som wintagescraps for the fabric. These you can even sew by hand! Painted a tree branch white and glued them on with hot glue. some fish-lines and woila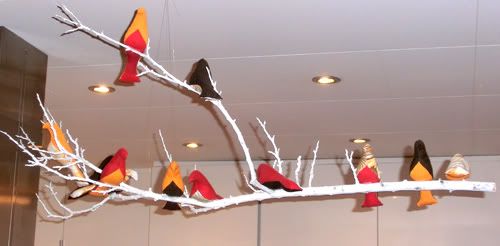 Hi! I have not had the time to sew in a good while. When I finish my workday and the kids are in bed I'am so tired my self so the bed is more tempting.  This little skirt is done over a couple of evenings thou it quit simple to make. I found a gorgeous tutorial here. Just loved it and had to make it for my little girl. It's a little big yet but this is a kind of skirt you can grow into. I made it with adjustable elastic, some scrapsstrips with hearts and some scrappy bedsheets 
I couldn't get the gathers for the top layer right, mine came over the ruffles so I had to adjust that. I'll think I make more of theese with other fabrics.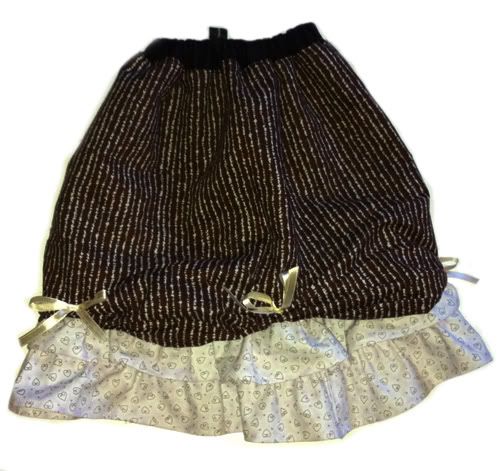 Been a while sins my last post, but I got a new job, that I love by the way. Not so much time to sew but 5 minutes here and there and 2-3 hours. Sewing is my big THING so I always make room for it! This skirt have all of the little timesaving's. The fabric is a big scrap I got from a nice lady who came to my doorstep. the crochet edge and flowers are done on the ferry(Have to take a ferry to work so I just learned to crochet too!)  I love to learn new thing and some of the best tip I found was how to sew a invisible zipper with a normal foot and how to fully line it. The skirt is a little to big in the waist for me so I think I sell it. Think I was bigger haha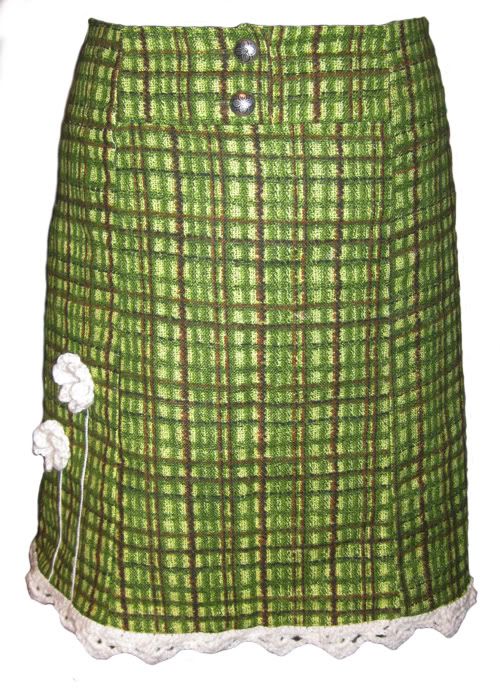 Just as in the previous post I have made a pair of pants with rib . But this time I attached ribs in the frontflap. It keeps it much better up. So better every time I make these. This is size 3 years but with extended life due to ribs. Appliqued a worm that winds its way around the pants and down his leg. It was a bit of a challenge to get into the leg, but I got crooked me to it. And used many of the fun scrap I had left.  
Fun variation but a lot more work though.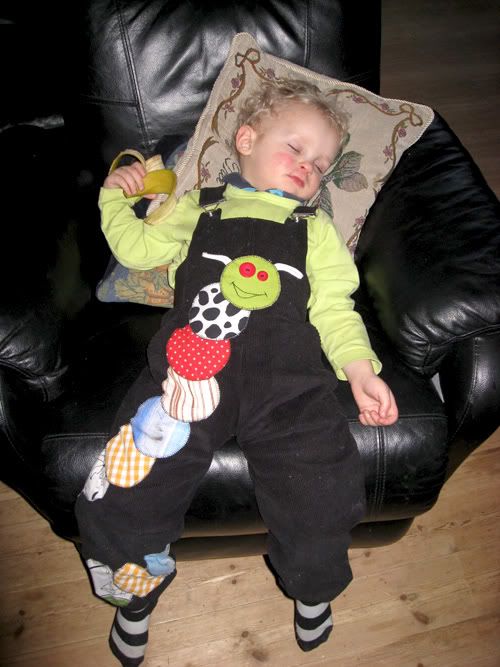 This last picture is my son" in action" . the fit is good and I love how it turned out
This one is based on the same pattern as the whalepants. The elastic is replaced with rib and I think it works just fine and give it a different look. I used the size 2 year but extended the flapfront a bit and just added the rib. It's wide enough as it is. The hippo is made of fleece and the legs are filled as a fun effect.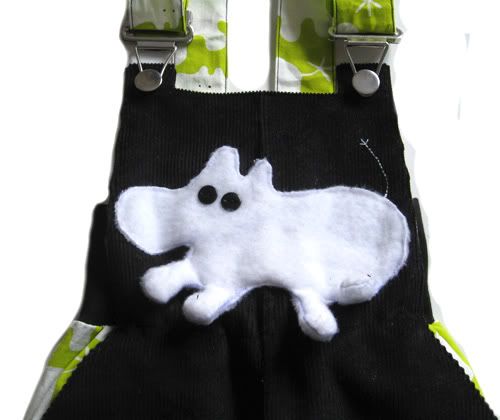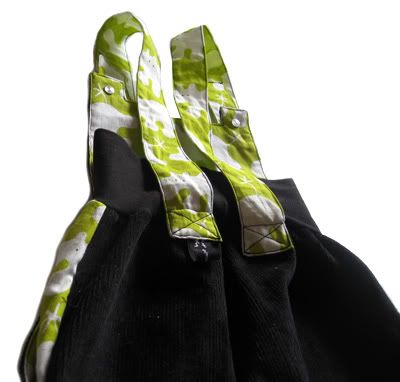 In a retro-mood this weekend. This pillow is made from a old tablecloth, added lace and piping. I hope you enjoy the fresh colors!