I think I'll I want more interordesign in my blog. I love making things, often with my husband and this is one such project. I made ​​squares with my Silhoette. My husband made ​​the frame and cut out the letters with his scrollsaw.
I always wanted a family monthly plan but the cost some firms take to make one is a little to much so why not make one myself.
If you want to create something like this one, you need:
A plexiplate, mine was 80 x 120 cm bought at the hardware store
A frame that fits or a nice husband who can make the frame
Scrollsaw to create letters and a thin plywood
A piece of fabric a little larger than the plexiplate
Glue. I used E6000
Silhoette cuttingmachine
You can use a silhoettemachine to cut out the squares, mine are 13 x 13 cm. You can also use a stickerpaper if you don't have one.The plexiplate comes with a thin plasticfilm on both sides.Choose a frontside and mark up were you want the stickers to go. Remember to make space around the edge for the frame. I also cut out Monday to Sunday with the machine. Stick them according to your marking now on the backside, remember to cut the letters inverse. Then remove the plastic from the front side.
Cut out the fabric a little bigger than the plate. Cover over the backside with the fabric and glue it along the frontedge. Wait for it to dry
Now print out the letters you want as heading and glue it to a piece of thin plywood. Mine was 80 x 17 cm to fill the top. Cut it out with a scrollsaw like my husbanddid with mine.
make a frame around the whole thing. The plexiplate build 4mm and so did the plywoodplate so on the top we had to make a deeper track. My husband is kind of weryhandy so that was no problem. He made the frame with 4 pices of wood, then made a 5 mm track along the side like a slot. double so wide on the top. Slot it toghether and glue it in the corners. It makes a very stabile frame.
Then hang it on the wall and enjoy! Write on it with markers.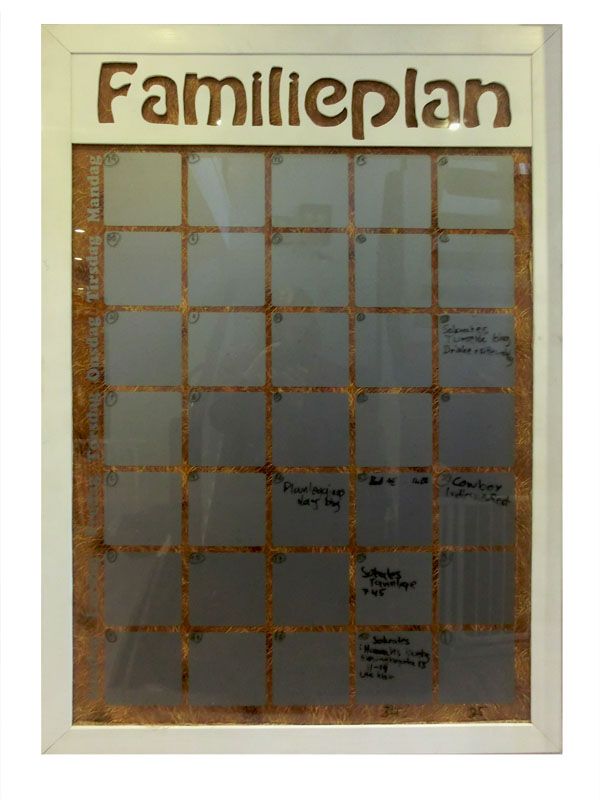 2 Responses to "Familiyplan"