Var på tide at guttungen også fikk noe fint. det nærmer seg sommer og retorfarger er noe jeg er veldig glad. Ribb fra SS både I hovedstoff og kanting. Det er oppskrift fra nyeste ottobre. Jeg har ikke fulgt oppskriften helt da jeg kantet begge sider og la dem oppå hverandre, men det ble jo litt tykt. Jeg la også inn strikk I ribben rundt livet for ekstra hold.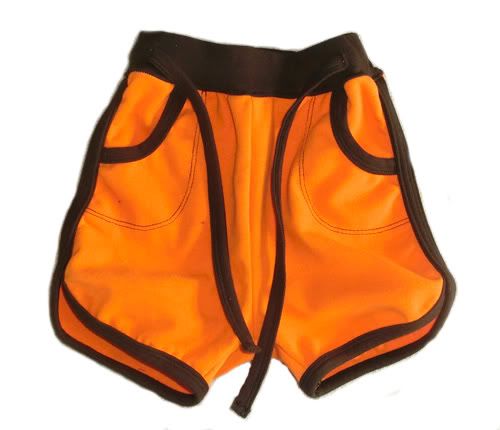 English: Retroshorts from Ottobre with some adjustment's
Had to make me a new pattern with tied cords at the top, in Norwegian called tied-pants. It is very simple to make and have a good and fitted dress form. its very popular among seamstresses in Norway. On the picture my sofa is supposed to be white.and a little of the new photo wall behind it.
Ønsker du en slik en tar jeg 450,- (NOK)
Well, time to make a new simple tutorial. and this time in redesign. If you have a pant who are to small, this is what you can do. I have used a EU36 and made it to around 38.
You need a matching fabric, your pants and optional biastape.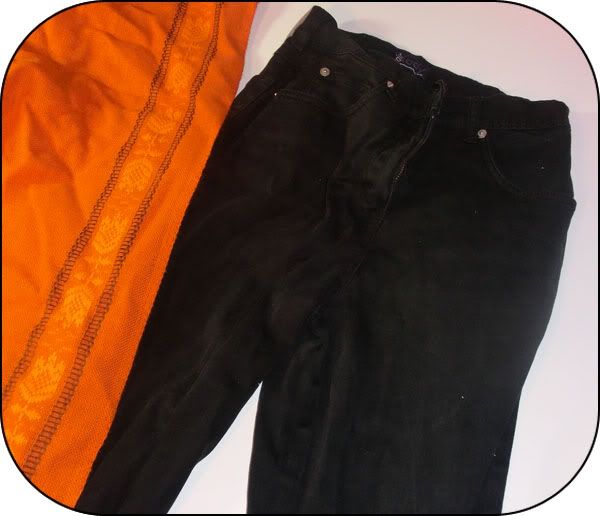 1. Your pants and matching fabric. I love orange and this is a old tablecloth from the 70's. But of course choose what you want, but I suggest that you choose a solid and not too thin.
2. Cut up the side-seam and cut off the seem-allowance on the other part. I will keep the pockets in the same shape.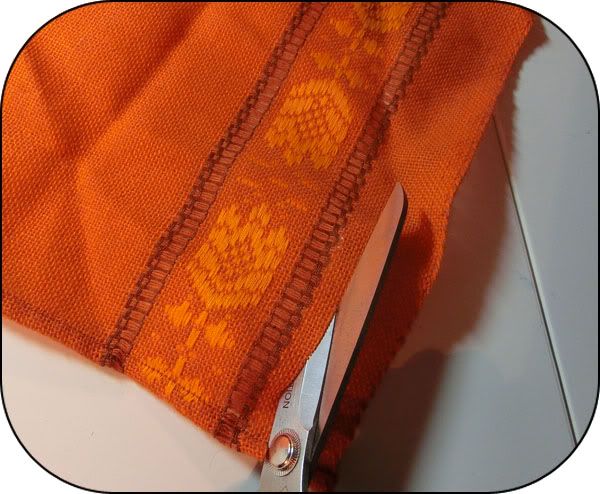 3. Now, Measure your waist and subtract the 2 waistline from your pants, and 0,5*4 seamallowance. This number is what your missing. Dived .the number on 2. and add seamallowance 2 times. Two for each side of the stripe.
EkS. My waist is 74. 74- 64(pants-0,5*4)= 10. 10/2 = 5.. 5*0,5 on each side of the stripe  = 6 cm strips. Cut the stripe a little longer than your pants (or like me too short)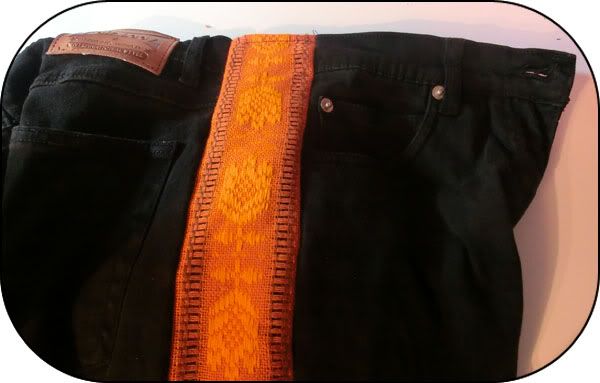 4.  On my tablecloth I just overlocked it to the side seams. But you may have to fold under and sew a seam on the top of the stripe. If you don't have overlock, just sew a seam and a zigzag.
5.  Well I cut my stripe to short, but hey why not give the pants a swing on the bottom? Of course you don't have to
I cut my stripe in a V shape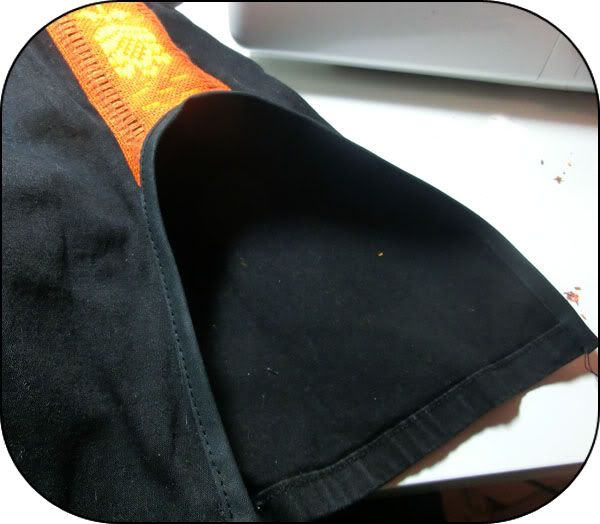 6. I just sewed on biastape around this hole. Simple as that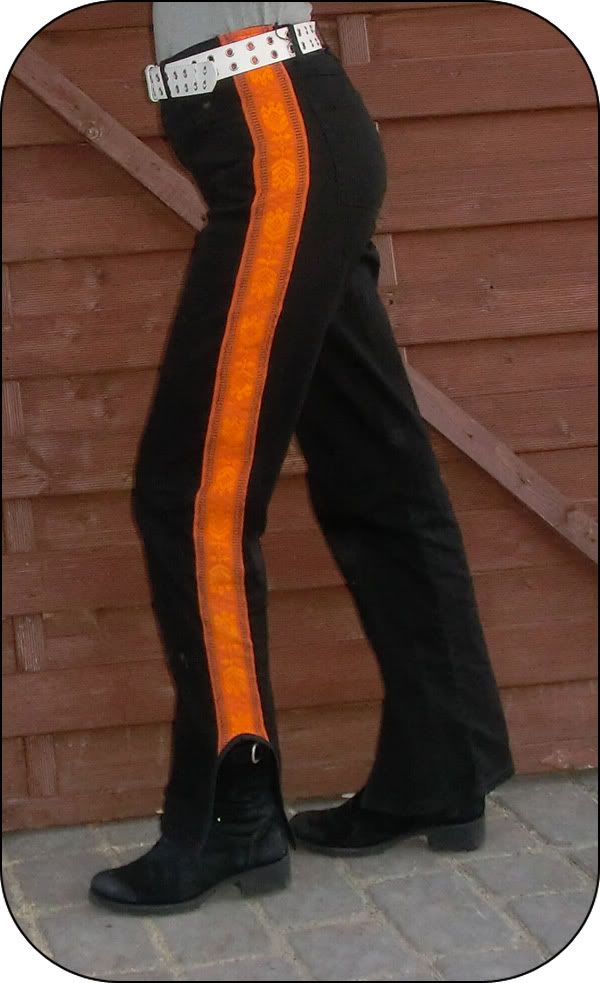 7. Tadaa nice? I think but I also love these colors. Make one and leave me a comment so I can take a look at yours.
I'm lucky to have received not less than 5 bags of old clothes. This is the first garment out.I used a simple dress pattern on the  t-skirt and cut off the application from the sweater. FOE in the sleeves and 2 seams on the side. Maximum one  hour used.  My little one is happy too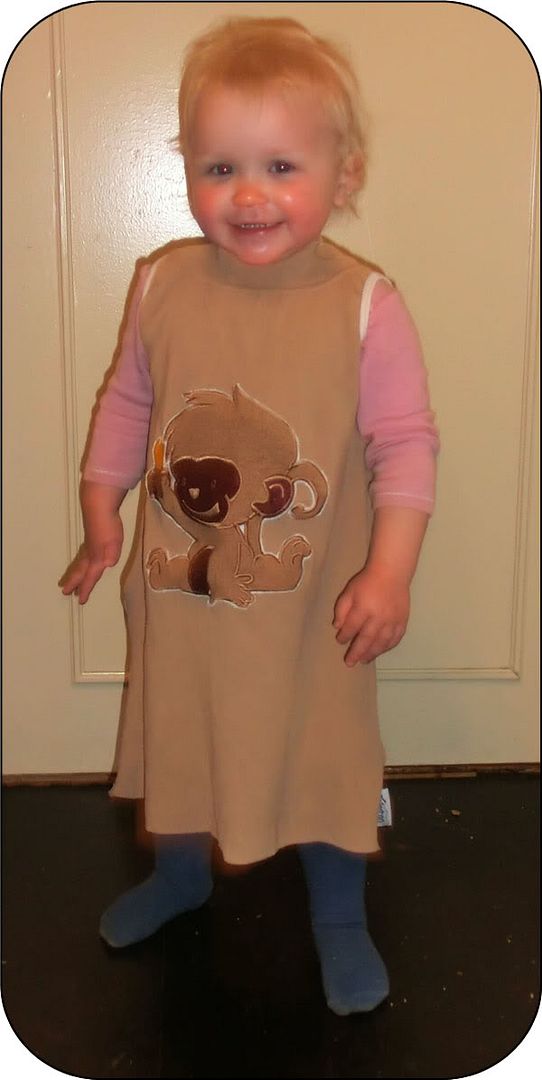 Two sweet girl is getting a dress from me. Turned out nice, now I'm soooon out of the blue sky fabric. This two will match though. The print is screenprint and quit fun to do. Hope they like it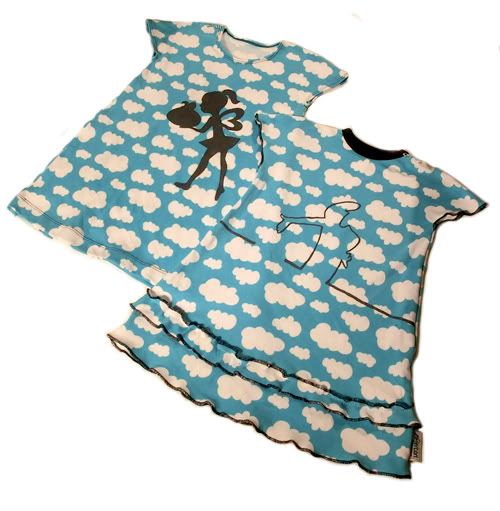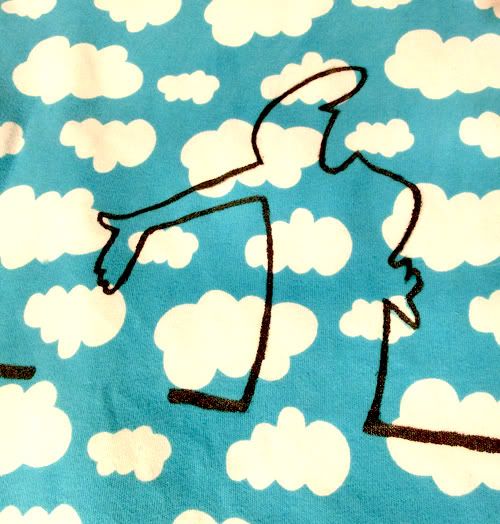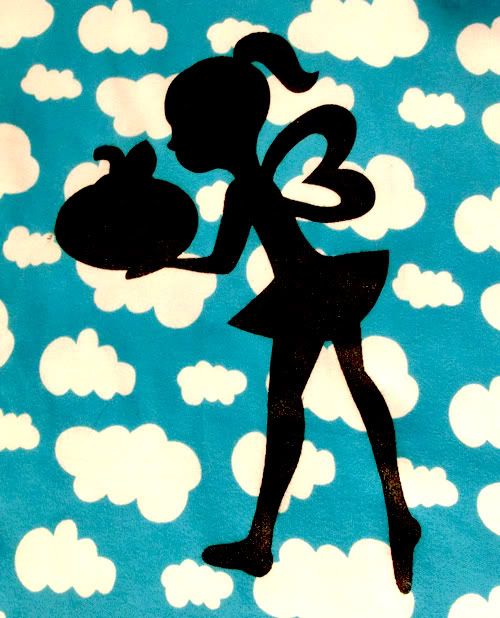 Love this fabric from sydilla. Its blue monstertruck in isoli.  The pattern is form Ottobre 6/11. this is sixe 4 years but my son is 3 1/2. Little big in size but dosen't matter, it look so nice
The collar was a bit trouble of cousre, always, I hate to sew them but love them for the look.
Action picture of my son this time. Cute?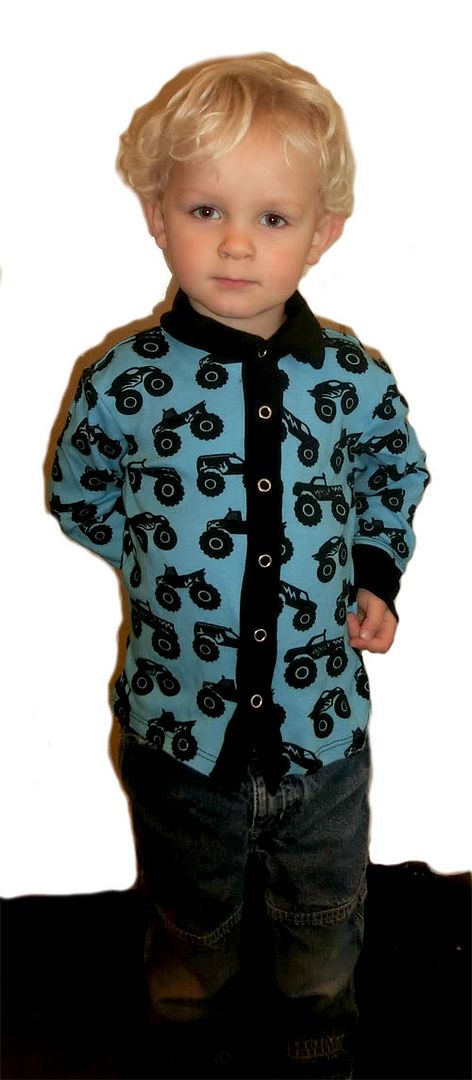 Have a lot of this blue sky fabric. It looks like the sky and are a perfect "drawing" background. Size 3 years to my son weee. The bat sweater
HI, I'm not gone, but my work, my normal daytime work is taking all my time. Well I sit in front of a computer and construct steel to the oil industry.  Engineering is fun but here in north it is so cold and dark these two month before Christmas. So I sleep a lot after making dinner to children and so on. Days fly by. Daydreaming a lot when I drive or when I can't sleep at night. Dream about my sewing machinery  and all the project I want to do but almost never have a chance to do.
Well this dress was on my project list for Autumn and I have been sewing on this 5 minute here, 15 min there in several weeks. And I think it is so far the most advanced project i have done. So a little bit proud
The pattern are SS and so are all the fabric. Satin..yes its slippery!! bah..cursed a lot.
The first picture is from the SS (stoffogstil) catalog. This is the dress the way its supposed to to turn out.
Beware i don't were any makeup, and the picture are taking before we are going to a Christmasparty at work the next day. Do you think I accomplished it?  The flower-fabric is a see-true fabric and was very difficult to hem, wasn't pleased but turned out ok. Haha noticed my feet are kind of disappearing on the picture to. We have almost black floor, sorry
Anyway the dress fit so perfectly in size 36 eu. And now i have a really nice dress

Det er snart jul eller ihvertfall advent og da er det veldig koslig å kle opp jenter i søte julekjoler. (Bilder lenger ned)
Disse lages i kvalitetsfleece i rødt og hvitt og er gode og varme. Enkel fin utforming med kanter av hvit fleece og en applikasjon, men du kan også komme med andre ønsker. Bare send meg en mail på akr@nefertaricreations.com etter bestilling. Dette er bestillingsordre, så beregn noen dager ekstra.
English: These are made of quality fleece in red and white and are comfortable and warm. Nice design with edges of white fleece and a applique, but you can also make other requests. Just send me an email at akr@nefertaricreations.com after ordering. Beware, I have to make it before I ship it so count in some extra days.
Payment via paypal and the shoppingcart shown further down
Neffa julekjole / Christmas Dress 0-2 år
Price: 52$  (ca 300 NOK)

Neffa julekjole / Christmas Dress 3-5 år/years
Price: 62$ (ca 350 NOK)

Neffa julekjole / Christmas Dress 6-8 år/years
Price: 65$ (ca 370 NOK)

Neffa julekjole / Christmas Dress 9-12 år
Price: 70$  (ca 400 NOK)

Extra shipping cost international
Price: 9$

——————————————————————————————————————-
Shoppingcart:


Eksempler: Disse kan også kjøpes, ta kontakt.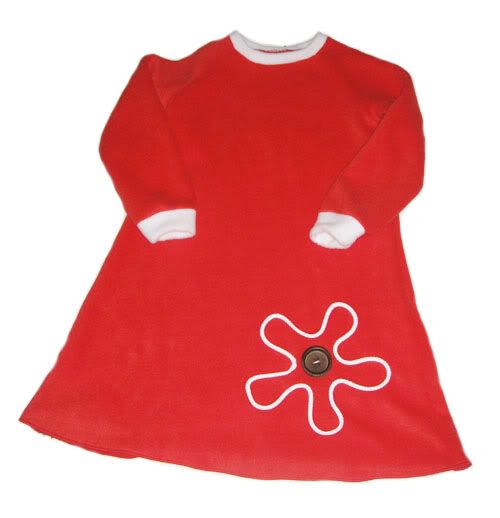 7 år / years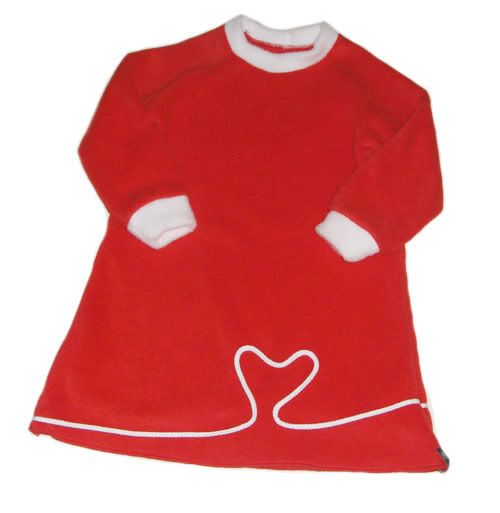 2 år/years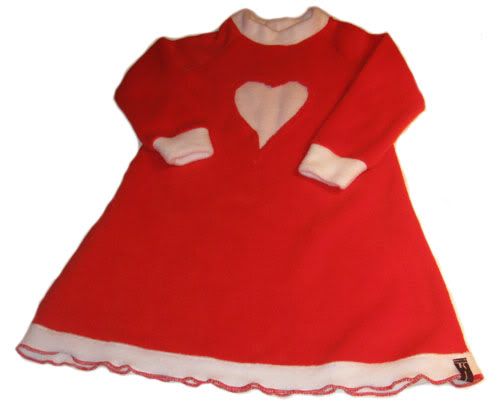 4 år/years
Detalj bilder / Detail pictures: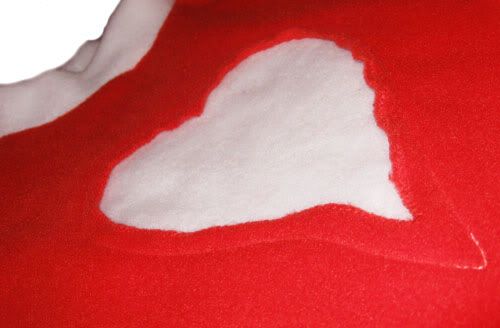 This is the sewing projects that come this fall. I think I will focus more on myself and challenge myself when it comes to adult clothing. It is much harder than the children's clothing and fabric consumption is much higher. So here comes a list of the most exciting outfits:
Wind jacket 
 I plan to make it with this rainfabric just like the catalog


but a bit warmer so i will line it with quilted fabric

Pencilskirt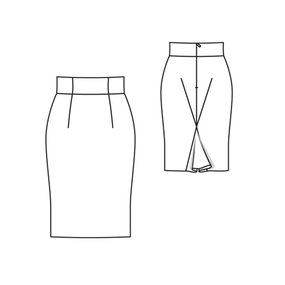 Not sure witch fabric yet, but maybe two or tree in diffrent styles I can use on work. Maybe in wool. This pattern is from burda
Skirt witch suspenders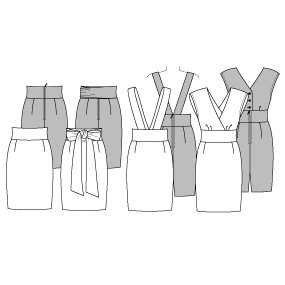 This is also from burda and I love the look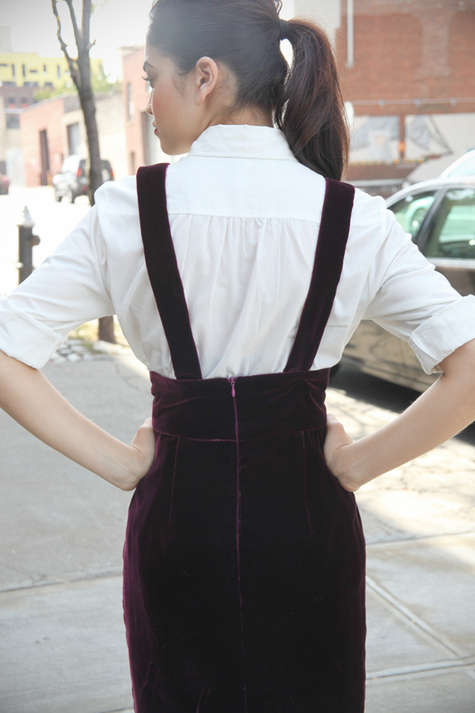 Garboskirt
This skirt is too from burda but not more in the burdaarcive. I had it for two years but still have not made it yet. I think the lower curve makes the whole skirt

A lineskirt
This skirt is so simple but so cool, have to make it, but maybe in the springprojects instead. Pattern here

Dress 1
This will be so difficult and fabric is caramuse! I have cut it out and just cutting it was kind of hell so I'm afraid to sew in it. Never tried silky fabric before

Dress 2
This one will be much easier and wich fleece.  Not soo sure of the pattern so have to think about it.

Dress 3
And the last one is my cristmasdress and crismaspartydress if the dress 1 fails

All the dress patterns are from ss
Pants
I want to  learn to make zipper-fly. I have some denim fabric and this pattern i will construct all by my self. So a real challenge and showing the whole process shown to you of course
All these projects will be linked up to the finished garments. It so much I will do and I have too do some sewing for the home first, wish me luck!