It bin a long while, but I'm still here. I hope you are still following me. I plan to give out a bigger pattern with 3 sizes on the wraparoundbody pattern.. Its improved. You can get it in the book Handmade.  it was very fun to contribute to a book sold all over Norway.. If you just want the pattern have some patience until fall.
Now I have actually sewn some in this year but not so much that I wanted. This house and job takes a way the evening hours and soo soo tired some times. This summer I have managed to sew and crochet 3 dresses. It's a very popular pattern in the sewing community in Norway and everyone makes them, so I had to make some myself. Love to combine crochet and fabric and its easy and fast enough to do in 3 free evenings. since we have vacations I've managed to make it in 2 weeks or so. The pattern is Dale 27707. I think is some danish translations somewhere out there but don't remember. I let you know. Edit: Found it
I made it in three different versions. 3, 4 and 5 years. The pattern goes to 3 years but its very simple to justify to bigger sizes.The biggest dresses are given away for some late birthday present and the smallest its given to my now three year old daughter. I think she loves it too
Happy summer and I will get back to you all soon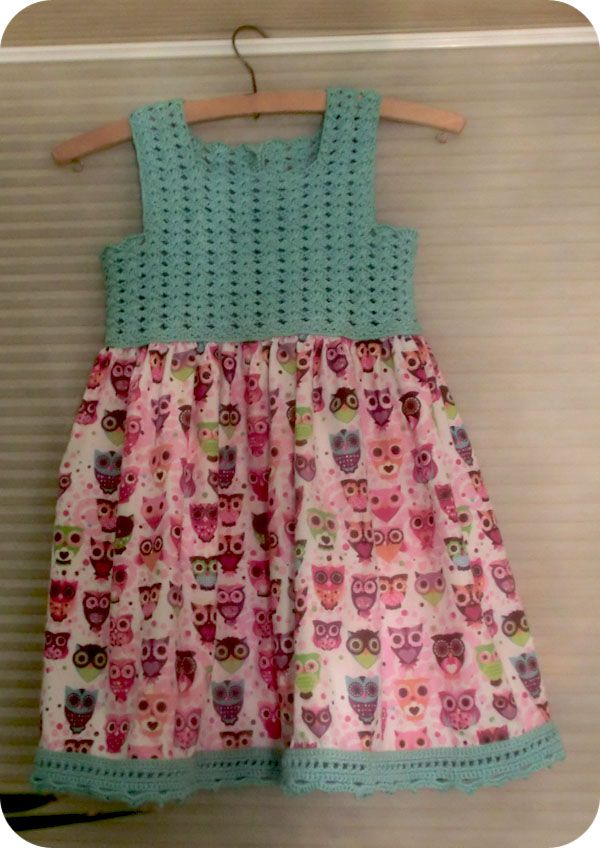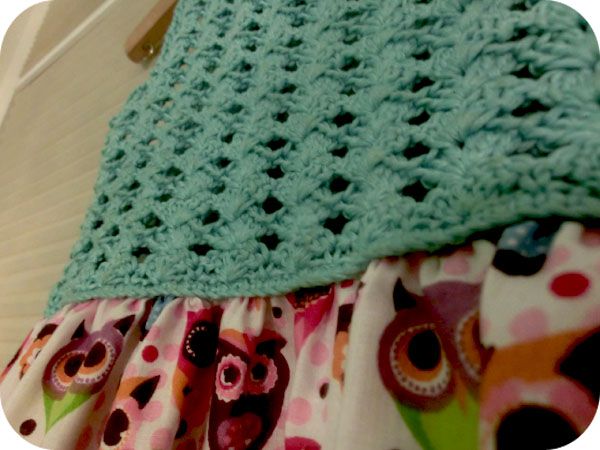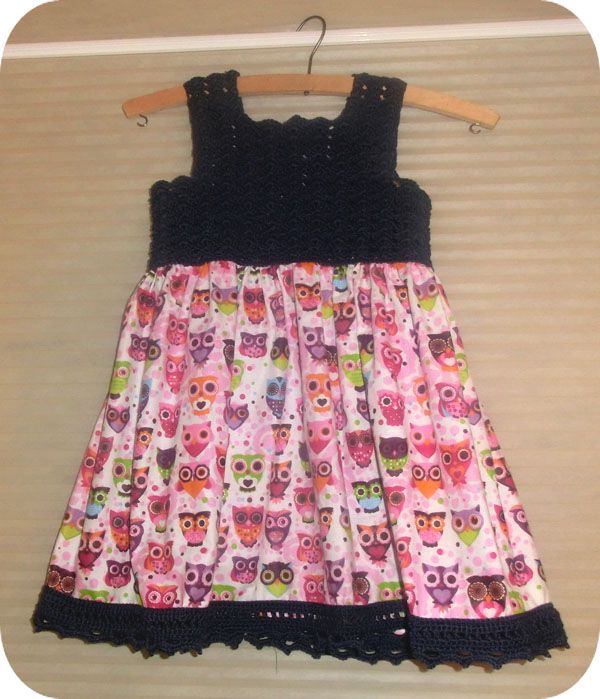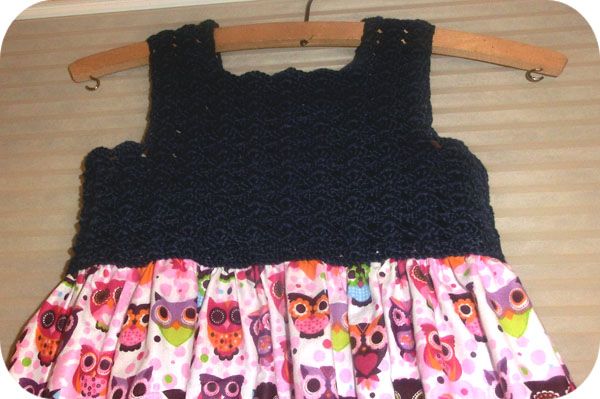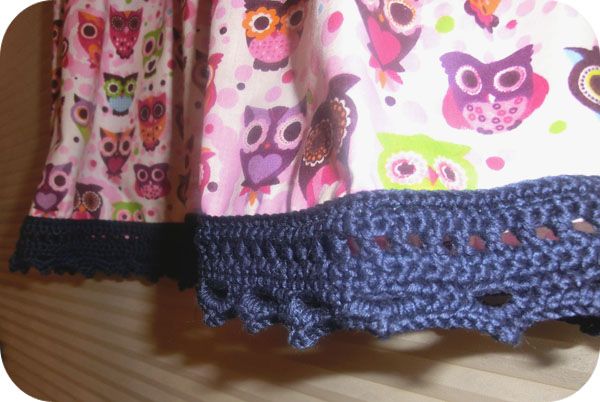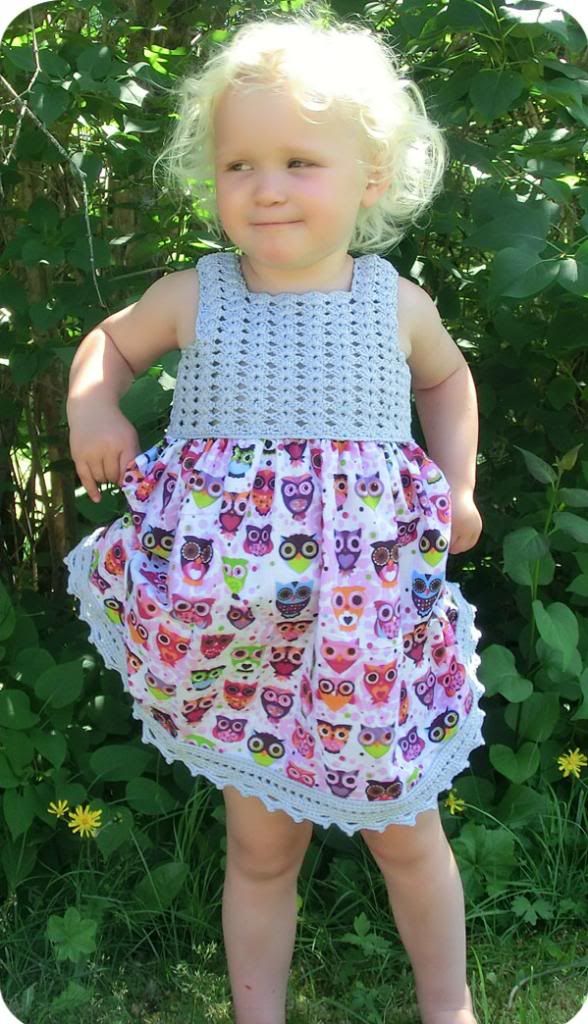 I'm lucky to have received not less than 5 bags of old clothes. This is the first garment out.I used a simple dress pattern on the  t-skirt and cut off the application from the sweater. FOE in the sleeves and 2 seams on the side. Maximum one  hour used.  My little one is happy too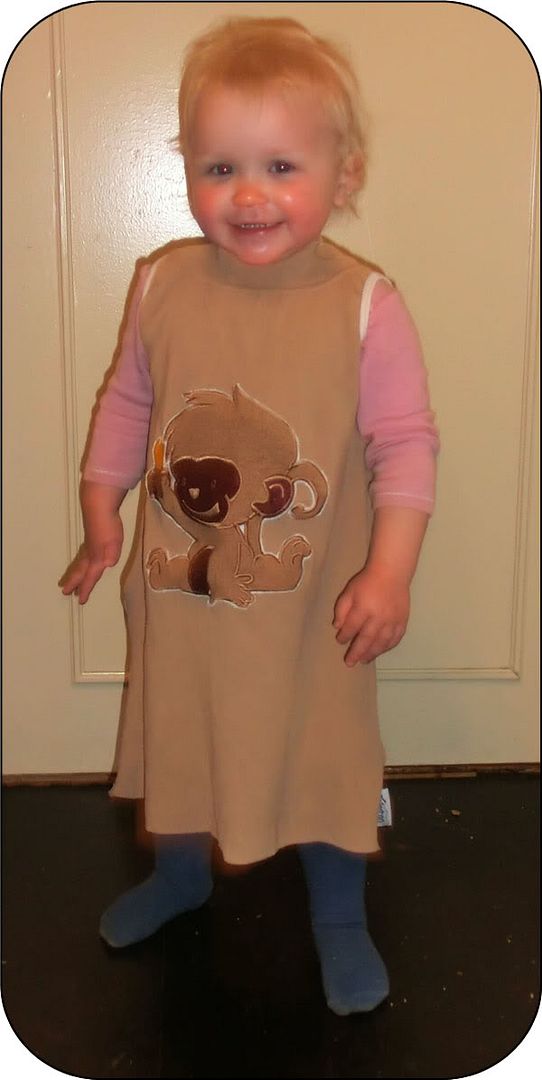 Two sweet girl is getting a dress from me. Turned out nice, now I'm soooon out of the blue sky fabric. This two will match though. The print is screenprint and quit fun to do. Hope they like it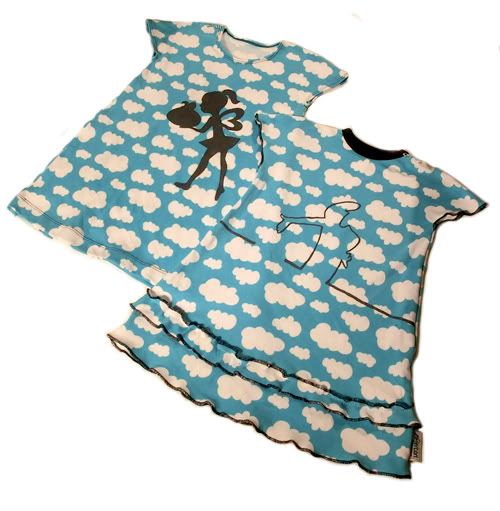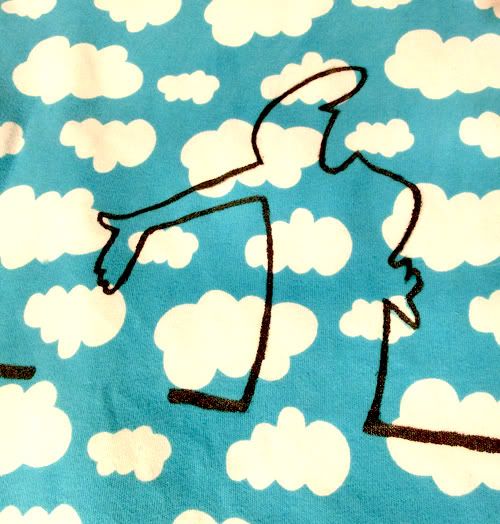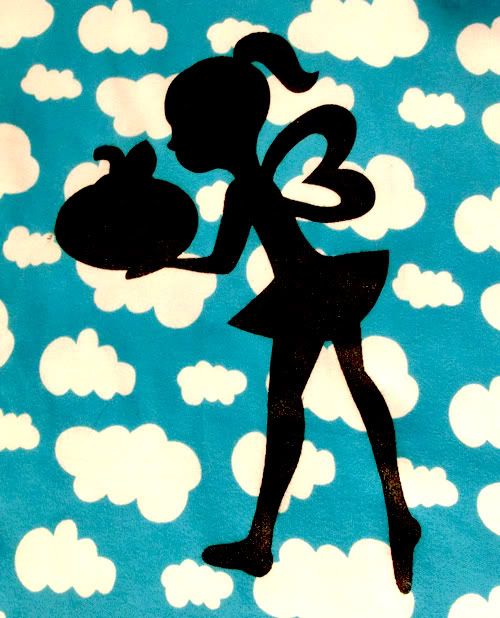 HI, I'm not gone, but my work, my normal daytime work is taking all my time. Well I sit in front of a computer and construct steel to the oil industry.  Engineering is fun but here in north it is so cold and dark these two month before Christmas. So I sleep a lot after making dinner to children and so on. Days fly by. Daydreaming a lot when I drive or when I can't sleep at night. Dream about my sewing machinery  and all the project I want to do but almost never have a chance to do.
Well this dress was on my project list for Autumn and I have been sewing on this 5 minute here, 15 min there in several weeks. And I think it is so far the most advanced project i have done. So a little bit proud
The pattern are SS and so are all the fabric. Satin..yes its slippery!! bah..cursed a lot.
The first picture is from the SS (stoffogstil) catalog. This is the dress the way its supposed to to turn out.
Beware i don't were any makeup, and the picture are taking before we are going to a Christmasparty at work the next day. Do you think I accomplished it?  The flower-fabric is a see-true fabric and was very difficult to hem, wasn't pleased but turned out ok. Haha noticed my feet are kind of disappearing on the picture to. We have almost black floor, sorry
Anyway the dress fit so perfectly in size 36 eu. And now i have a really nice dress

This will be a cozy  post. I decided to make cozy clothes. I did it with velour and jersey. The pattern for the stardress is from Stoffogstil. The other one I made myself based on a tee-shirt. Both are so soft and comfy but in children sizez but I wondering about make a pattern for the dress in my own size
The campingfabric is not more for sale
so this was the last I had. I hope there are some kids that will love them both. <3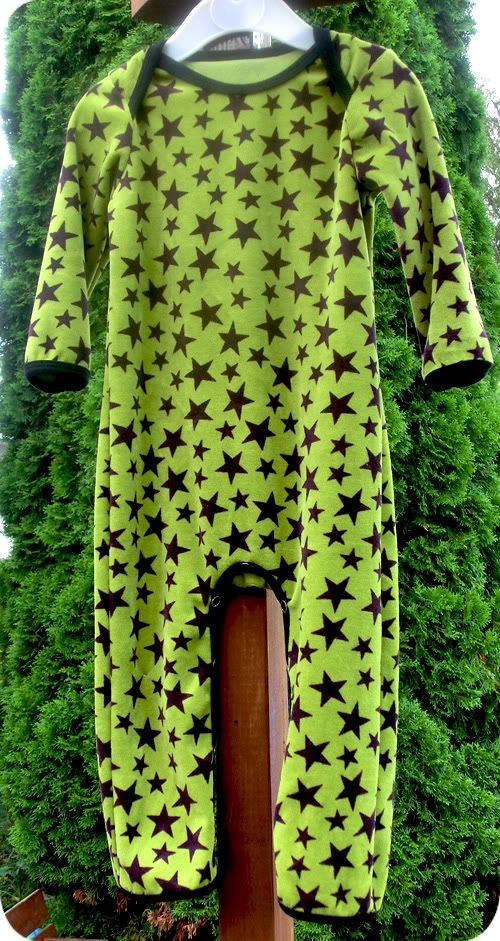 I like to create girly dresses. It easier to make som girly than boyish I know. You can stash a girl not a boy. if I do my housband won't dress my boy. So theses ones are for sale or my little girl can wait 2 yers to use  them. She is 1 so these are in size 3years.. The fabric on the cherry one is from Kaufman and the elephant dress is a curtain from a sale. Simple and nice but I used more time than I was supposed to, like always huh…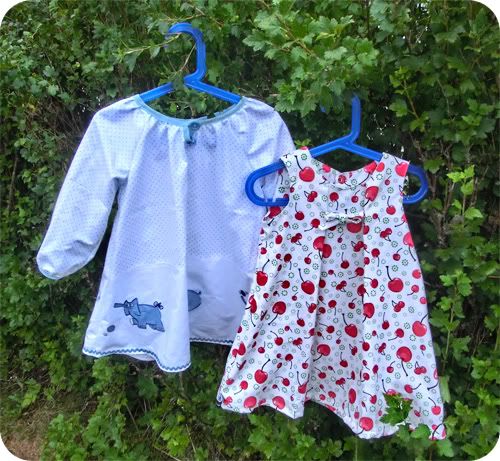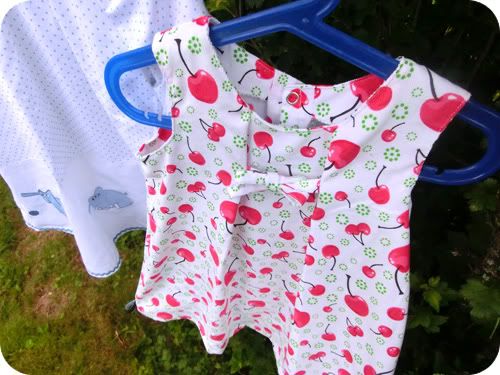 Norwegian: Ønsker du å kjøpe disse koster de 350 /stk.
This time I wanted to make something to myself. You know when you just hang around at home all day and your toddler is paddle around(yes with her arms hehe). Look like you have slept all day and so on. Well now I'am searhing for jobs and a needed to make some job-garment's. This is the first one out.
I got realy inspired by Willy who I know through a forum. I wanted to make the same dress that he did. And with princessseam and all that stuff. I kept the pockets from the pattern but modified the top and skirt in to one piece. A tutorial for the princess-seam you can find here. Helped me a lot!
I also struggled with the sleeves as I always do hrmf! So this time I did some researh and found this tutorial. Well it did get better but ahh not perfect, you can't see it thou mhi. One thing, it helped when I sew with small stiches, not the batting-bigones, and in three rowes. Did not bother to do more than one row before in this, well do all three!! Much more control.
The big problem with this dress is the lapel collar who is kind of  just described in text in the pattern and left me with a ???. But Willy had did some researh to and found this blog that I followed accurate.
The buttons is from my local store and the fabric is popolin, 3% strech, just enhaug ease to this garment. From fabric.com. I love how the pattern turned out in this skirt-dress. And is follows my line. I sewed the size 8 and measured myself before cutting. Hoped you enjoy this post and I will be happy to answer any questions about this dress if you want to try. The pattern is McCalls 4769.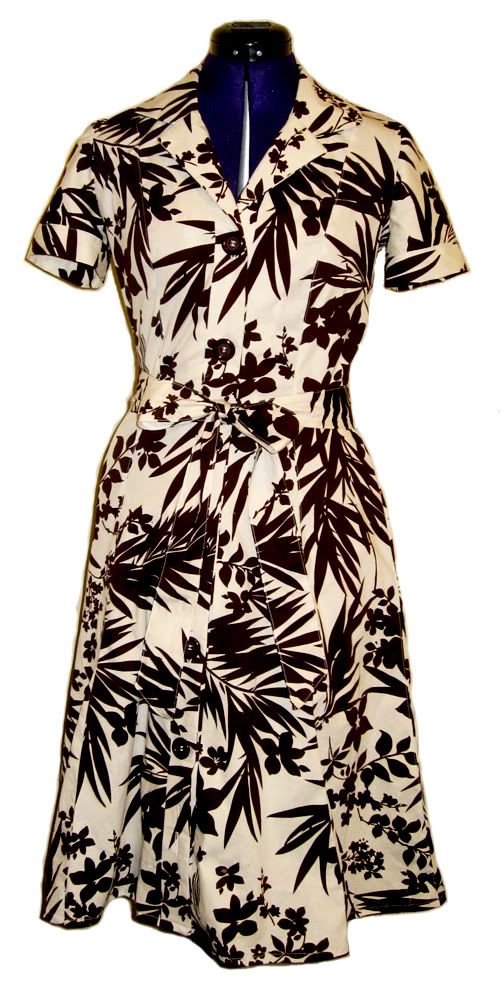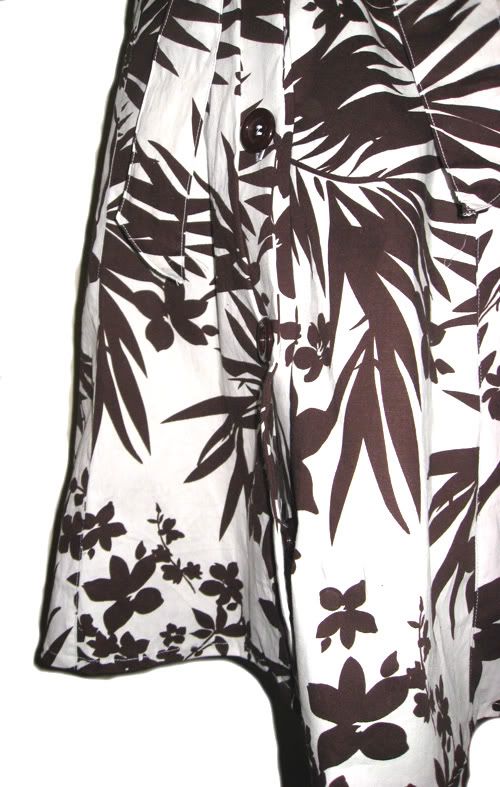 Two more of these sweet fleecedresses. Size 7 and 2 year. I love to make these and have appliqued cords on the bottom.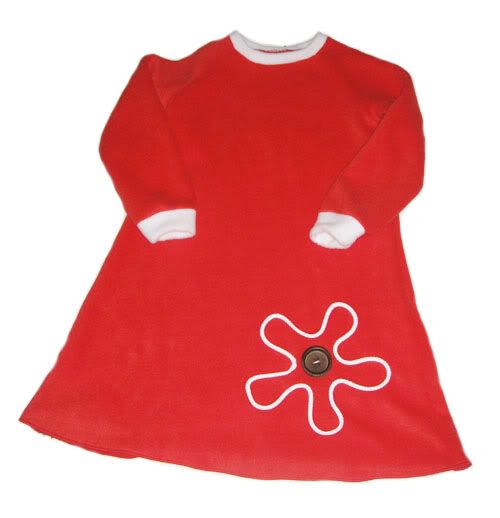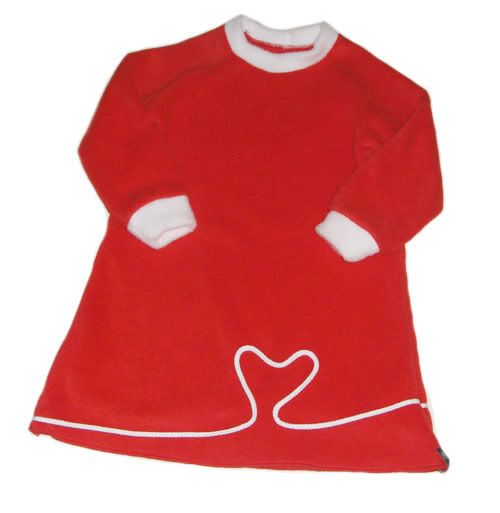 I'am quite proud of this dress. I made a pattern all by my self so this is all my work
But I don't have a 4year old to test the fit so I hope it does. Red and white fleece in very high quality and i love it. Raglansleeves make this easy to sew together! i don't like heart so much but now I had to make one. Cut a heart out were you want it ( I know, scary) sew around with smal zigzag. Then i used adhesive spray and glued on tearaway and a layer of fleece, just around the edge of the heart. Sew around the heart and remove the paper and woila.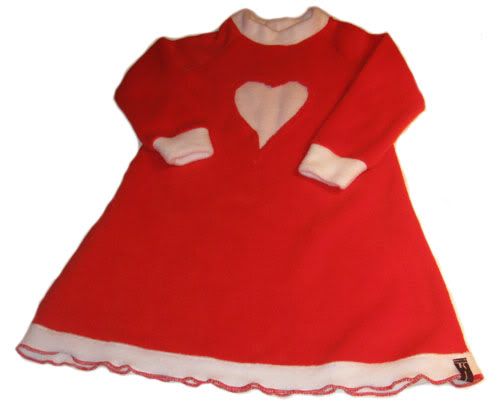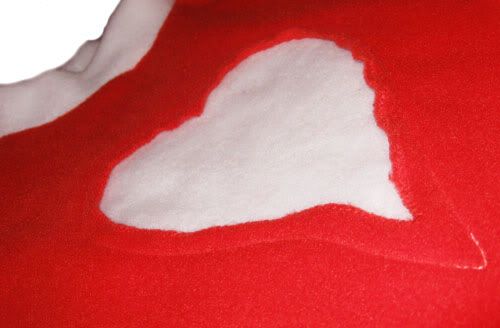 This one is made of velour with stars. It's so soft and kozy and I can spend my day just to touch it lol. I've got a bit hooked on rolled hem or what it this called in english. Goggle translate does not have all my seam expressions I need!!! Anyway the seam you see at the bottom of the dress made with overlock
On this dress I made all my seam outside of the dress as an effect. I followed the same pattern as the Monkey dress. Check out how two different fabrics make two different dresses. This is actually a size 2 year and I tried it out on my two year old boy but i diden't take a picture *grin*