Well, time to make a new simple tutorial. and this time in redesign. If you have a pant who are to small, this is what you can do. I have used a EU36 and made it to around 38.
You need a matching fabric, your pants and optional biastape.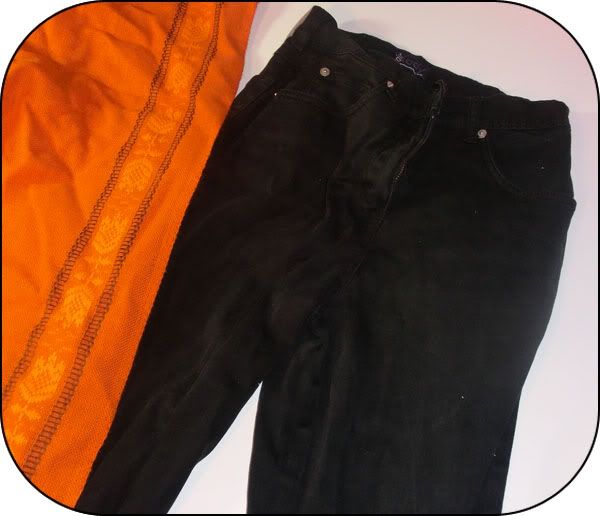 1. Your pants and matching fabric. I love orange and this is a old tablecloth from the 70's. But of course choose what you want, but I suggest that you choose a solid and not too thin.
2. Cut up the side-seam and cut off the seem-allowance on the other part. I will keep the pockets in the same shape.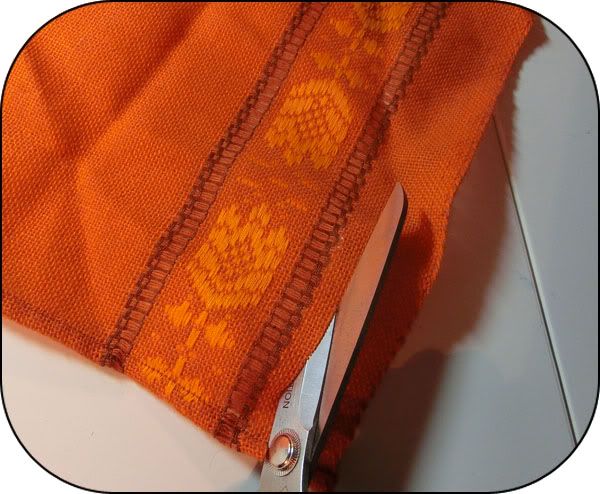 3. Now, Measure your waist and subtract the 2 waistline from your pants, and 0,5*4 seamallowance. This number is what your missing. Dived .the number on 2. and add seamallowance 2 times. Two for each side of the stripe.
EkS. My waist is 74. 74- 64(pants-0,5*4)= 10. 10/2 = 5.. 5*0,5 on each side of the stripe  = 6 cm strips. Cut the stripe a little longer than your pants (or like me too short)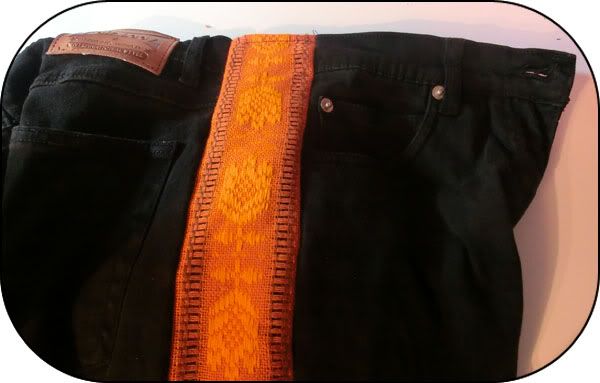 4.  On my tablecloth I just overlocked it to the side seams. But you may have to fold under and sew a seam on the top of the stripe. If you don't have overlock, just sew a seam and a zigzag.
5.  Well I cut my stripe to short, but hey why not give the pants a swing on the bottom? Of course you don't have to
I cut my stripe in a V shape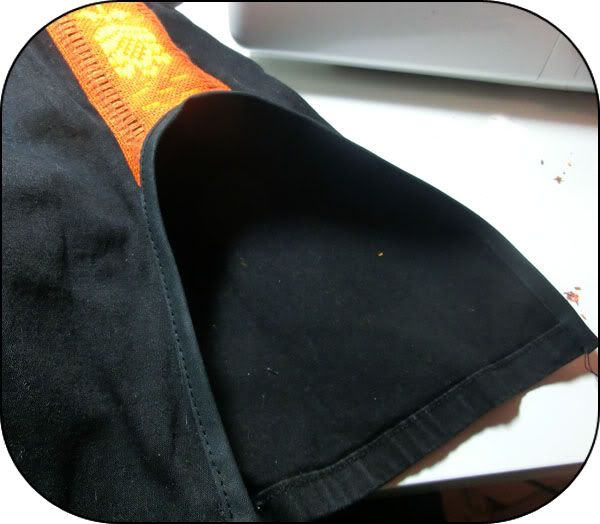 6. I just sewed on biastape around this hole. Simple as that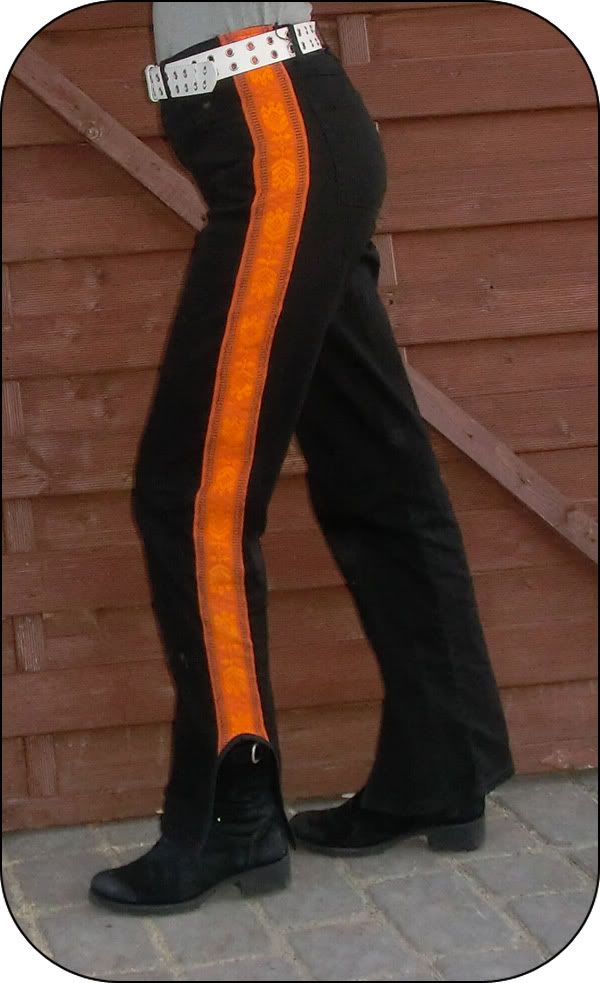 7. Tadaa nice? I think but I also love these colors. Make one and leave me a comment so I can take a look at yours.
This weekend  I made 3! Wow actually 3 pants, that's not normal to me. I usually make 1 piece in a week or so. I cut out pattern on Friday based on the one I experimented with before. This time I made 7-8 and 9-10 years and kind of boyish. A match for the two sweaters I did the week before. I love love love this easy cotton from sydilla and I have to get some more, but I can't afford it in a very long time. The summer patterned one is from Ikea. Hope you like it too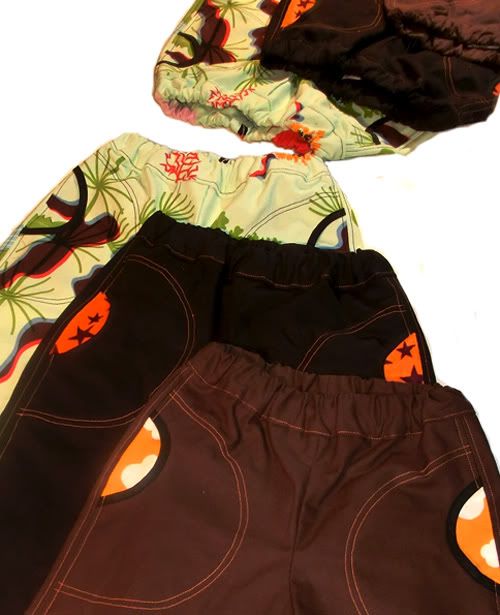 My son loves insects and when I asked him what he would have on his pants,he said spider and then I had to, of course, make it in this edition. Here I have cut up a pants bought at flea market that I never could were myself, but intended for such a purpose.The background fits well with creep, I think.
I still have to adjust a bit pattern since the waistband getting too far up and slipping down the abdomen. Think it's hard to make pants that hide butt but do not slip down. My son is slim for his age so there is not much to hang his pants on hehe.
He loved it and pointed and talked about the spider a while:)
To make a good children's jeans are not so simple. Firstly, you need good fabric that tolerate children's play. You can not use thin cotton of not only going to make some light summer pants. Buying pants is often lined which is time consuming to sew. So that was not very relevant. And jeans usual boring and packed in pink stuff or skulls..
This is girl pants because I like details like flared legs and a little floral decoration. It's going to be a challenge to create boy pants, but I'll try that too, thought maybe insects can be cool? And some cars or excavators ..
Anyway, these I have really enjoyed making these, Fabric is from Hilco, easy cotton from sydilla.no. Strong and good fabric that fits very well to children's pants without getting the jeans look. The print is made ​​with screen print and exactly how I've done it is secret:) Pockets, you can design with this tutorial. Trousers you  buying is either too large so if the kid just jumps a little they fall of or they are made ​​so narrow  in the legs so he/her  can hardly move.. Therefore, I used rib around the waist, but not so tight that that it's enough. In addition, I have therefore made drawstring. Was very pleased with the model and these will be on market before they are put up for sale.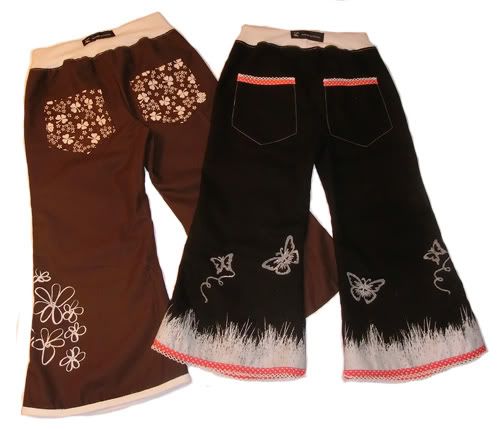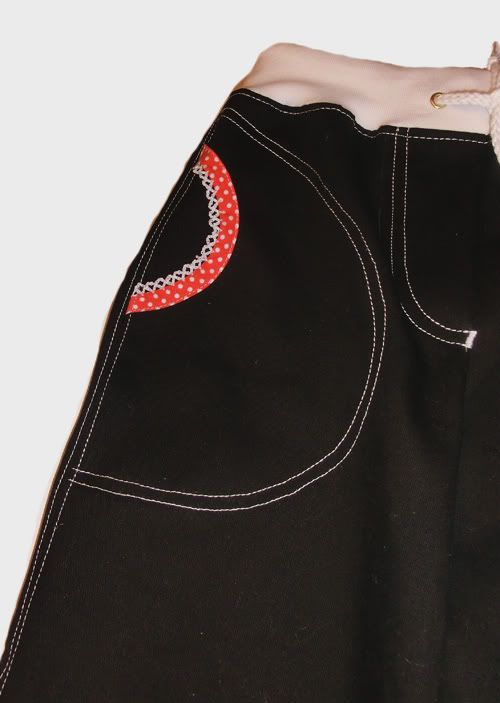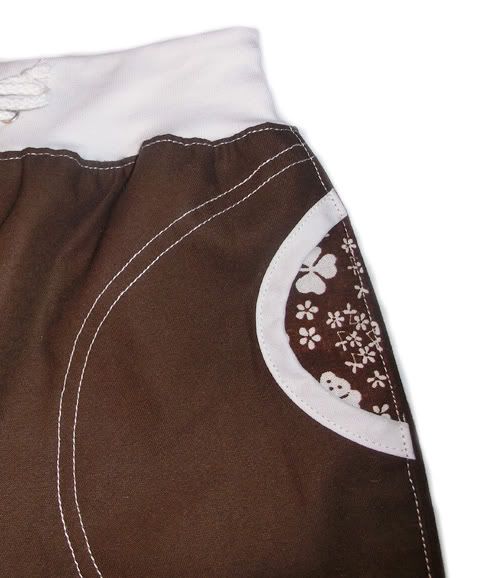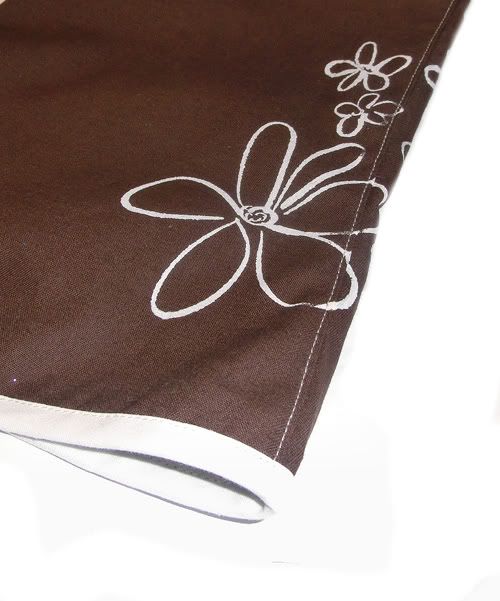 These are in 98/110/116 450,- NOK
Just as in the previous post I have made a pair of pants with rib . But this time I attached ribs in the frontflap. It keeps it much better up. So better every time I make these. This is size 3 years but with extended life due to ribs. Appliqued a worm that winds its way around the pants and down his leg. It was a bit of a challenge to get into the leg, but I got crooked me to it. And used many of the fun scrap I had left.  
Fun variation but a lot more work though.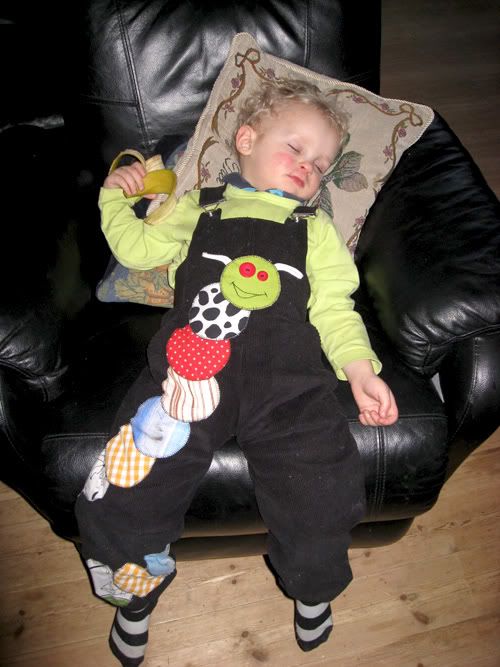 This last picture is my son" in action" . the fit is good and I love how it turned out
This one is based on the same pattern as the whalepants. The elastic is replaced with rib and I think it works just fine and give it a different look. I used the size 2 year but extended the flapfront a bit and just added the rib. It's wide enough as it is. The hippo is made of fleece and the legs are filled as a fun effect.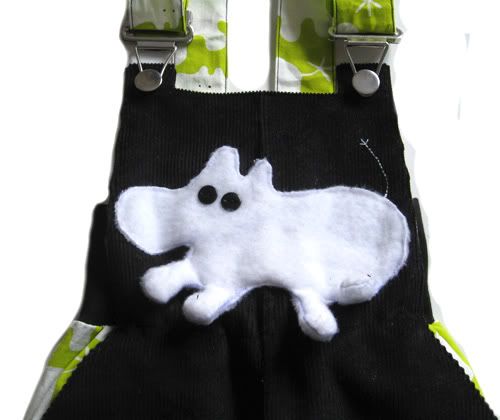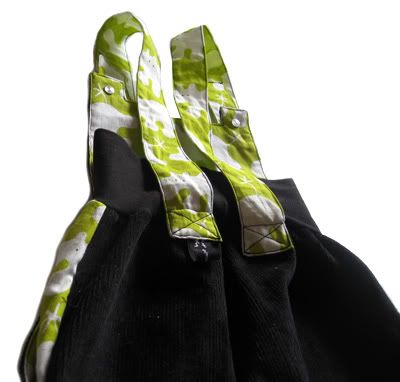 Finally a new garment. I have followed an ancient pattern from the 70's. It has elastic waistband and suspenders. I made adjustable suspenders with a button and some buttonholes behind. In front, I have appliquédt a whale with old beddingsheet from the same year, this is also caught up in the legs. The fabric is easy cotton from sydilla. Quite wonderful to use for pants and they really tolerate to use in kindergarten. This is in size 4 years but believe it fits 5 year also. I'll take it with me to the Christmas market, but if i don't sell it you can buy it in my store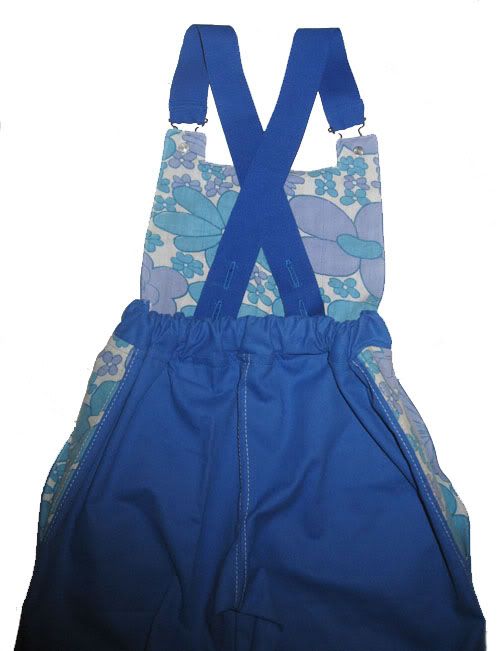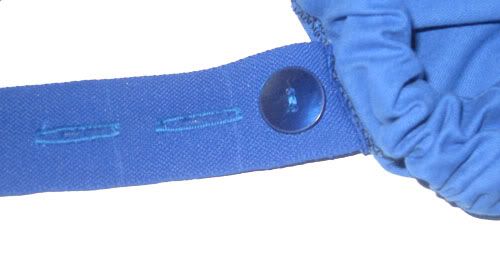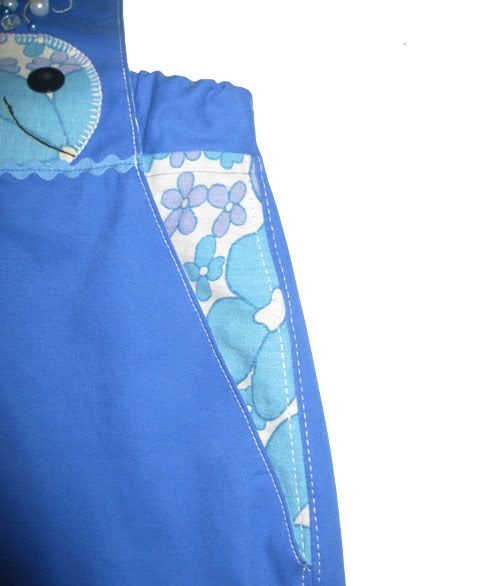 These one was a real pleasure to make. Modifying the pattern so it fits woven fabric. Easy cotton on back and ikea dots in front. All my machines have been used, trippel cover in sides feks
First time i use buttonelastic instead of rib to and that was diffrent and more work. Will be in my store if i don't sell it on the marked saturday. Size EUR 98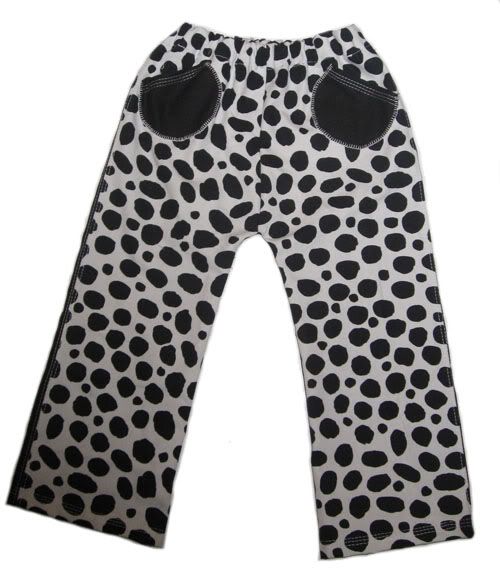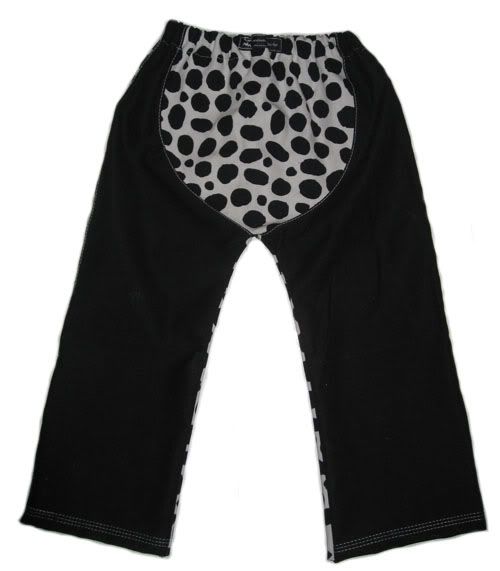 I enjoyed to make this set with a sweater and pants. Fabric from cheto interlock. The pattern for the pants is from this website. I made it in size 98, and they are barely to big but better then to small though . And I had to make a matching sweater. Next time the neck-rib and waist-rib more thigh. I find it differcult to measure out the rib for wrists and ankles, any tip when I don't have a human to measure? The applique on front and butt is the famous Linea from the early children's tv that I used to love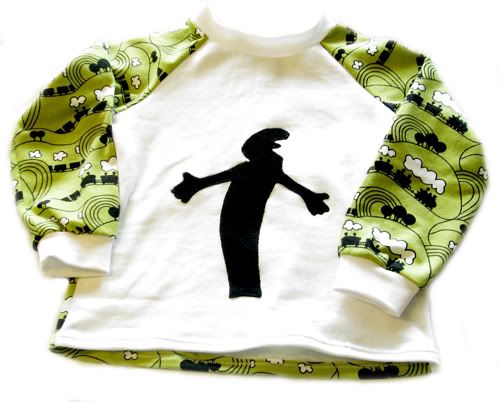 What do you do with the sweaters that is washed wrong? This was man's size L sweater ….But I  could create some new clothes? Arms are legs and the rest are west. Now the arms was not long enough to become a hole pants so Ihave to add som yellow knit. A  little duck were sewn in front with a some filling in so it created a funny 3D effect. Edging is done with the same yellow knit. I thought I'd be smart to edgde before I sewed it together, but it was very difficult to get the ends to meet perfectly .. was too much mess. So it is perhaps better to sew together first. It becomes so thick to sew the edgefabric somtimes, the threads jumps and dont bind it. Whether it was, it is a warm and good small suit. Just make sure to not wash it again in the regular wash! 
So do not throw such fine wool garments, they can become something new and nice:)
Before: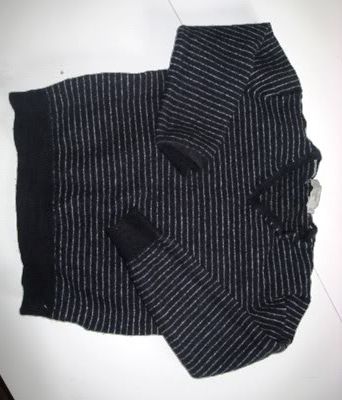 Etter: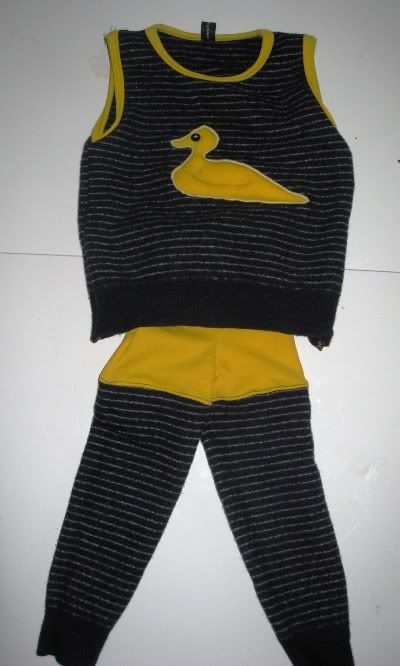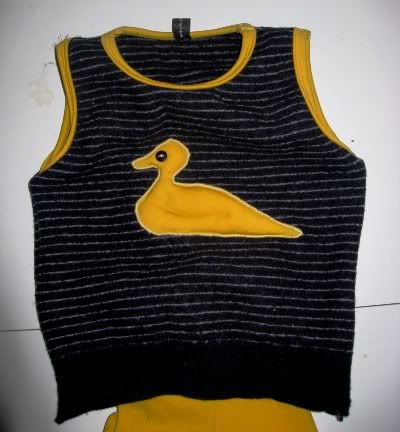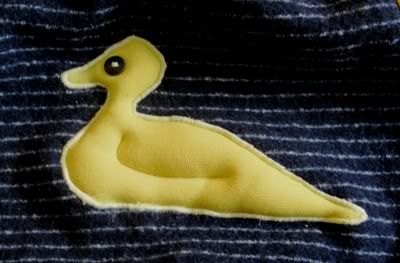 When he tryded it on the yellow but becomes very uniq and a little ducky too lol. The west was a little wide and the neckopning alittle big.