This pillow I made from this recipe . I recomend you to use 3 diffrent colours its easy to get confused  on the way. A funny pillow were all the pices is a square pice and you hafe to be carefol when you sew it toghether and make sure all are in the same size.  I made 20×20 cm. Fabric:  Cotton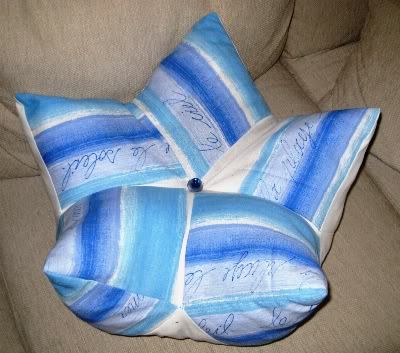 Its close to duedate and then I have to have an nursingpillow of course. Well I thought it was pretty simple to make, a halfmoon right? Well I had a old one i didn't like. I cut i open and the little balls(whats the name? isopor) was all over the place! The one that I made was supposed to be big and comfy, it did get comfy but much more narrow than a old one duh! Well well I came up with the ide to make some extras, so 2 more pillows had to go under the sewingmachine. On one of them I machinesew a little monster just to try but it took forever not again
And I get good practice in wrinkleseam with my overlock. I used it as decor around the nursing pillow. The small ones are good as nursingpillow in nighttime to get the baby high up to my breast(b – cup lol)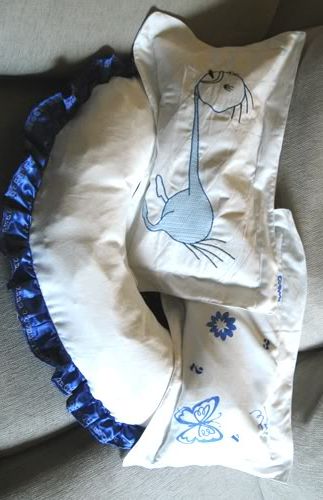 I went true the old gyntherbook and there was the recipe for a play suit. Yes that I can try! As I made it hit me that Iam making a onepice haha! Anyway I used velor knitting and added elastics to make it a little more narrow and not so baggy. The hood was to smal,l well what the heck: P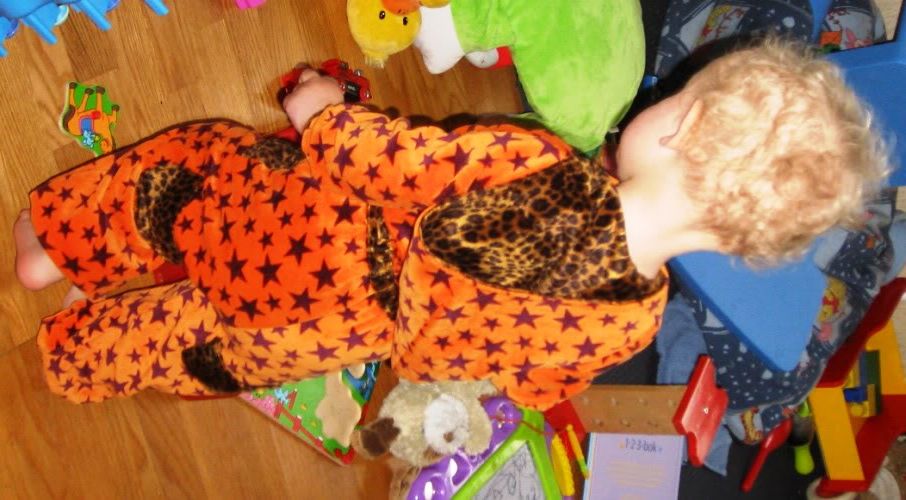 Ser deilig ut å gå med, men for en 2åring er det jo greit, en på 16 ser litt vel teit ut hehe!
A Babybag. Size 2 years but worked fine for 1 1/2. Flanellfabric from ebay. I hated all the buttons on the usual night clothes  because he is like a worm on the table.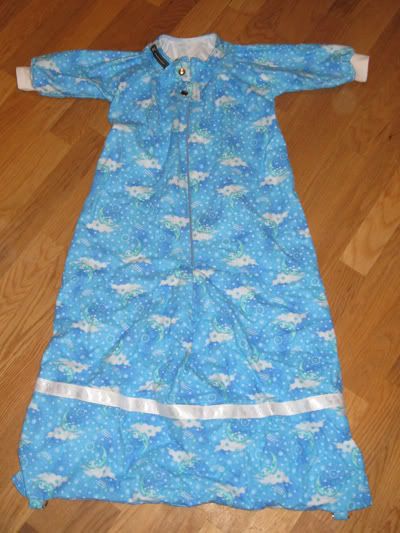 This one i made to my mother in law. Its quilted on the outside. The firts one coldent stand, but this one have some heave lining between and white linen innside. The letters are painted on, its bread in norwegian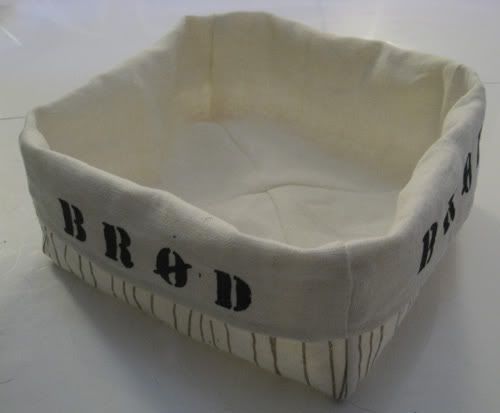 My first fleecedress. Sooo good and warm! Its very popular in Scandinavian to sew these ones, its so freaking cold in wintertime. Fleecefabric from ebay and polarfleece, not the ones they use in blankets.  The collar is a little wide and i should have used some kind of lining but I got so excited to finish it. The skirt is square so maybe a little to much fabric there. My husband thinks it look like a carpet anyway, but i don't care. In this picture I'am 7 month pregnant with my second child and very tired so please keep that in mind lol.

This is a pretty easy dress to make  but Ive messed it up. I was not happy with how the ending turned out in the front of the chest, but I have no idea how to achieve it. Also the shoulder straps is to wide. Lots of mistakes here but it is nice to wear.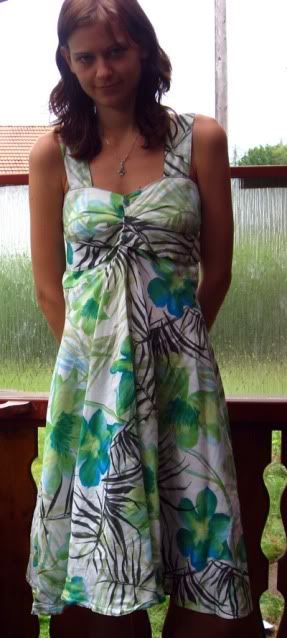 I found an old pattern that my grandmother had saved. Summer Dress, size 10. I had to just try it for fun. I do not have a 10åring but a 2 year old haha. The fabric is cotton and the same that I used in a star pillow: D
I love this fabric. Its Jofotex sky interlock. Perfect in the kindergarten and he loves to talk about the giraffe. The palm is made with freezerpaper(from ebay, cant get it here in norway) It stick very good to the fabric whit an iron. But just one time thou. The collar is white interlock from same place. I burned it a little when i ironed on the giraff but what the hell
Its cute in its own way.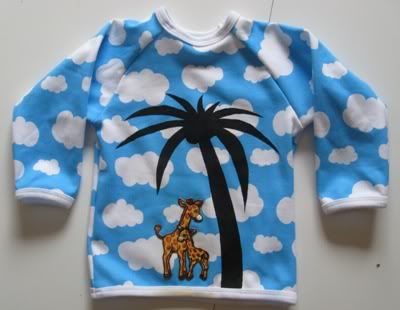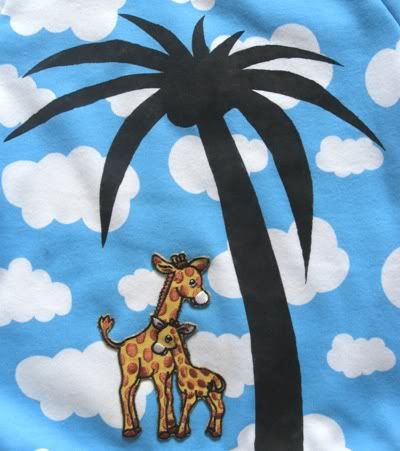 This sweater was to big, the pattern i used is meedoom and hello?? My boy is thin and narrow. Ill remember it to next time if i use this pattern at least. Funny with the beetles on the sleeves. Black rib knit at all ends. Well it will fit for a long time